'Outsiders': WGN America's Sets Season 2 Return Date
WGN America announced that Season 2 of its original drama series Outsiders will debut on Tuesday, January 24. Along with the announcement, the network released an exciting new trailer that gives a glimpse of what's in store for the Farrell Clan in the upcoming season. In the trailer, G'win (Gillian Alexy) explains what happens to those who threaten the Farrells, who have lived at the top of Shay Mountain for two centuries.
RELATED: On Outsiders, Will Asa and Hasil Become Allies? (VIDEO)
In the new season, tensions between the clan and the town rise as the fight for power and control continues, forcing the Farrell Clan to become more isolated than ever before. The standoff that took place at the end of season one continues to test the clan members.
RELATED: Outsiders: Meet the Wild Family of Rural Kentucky (PHOTOS)
The Outsiders cast includes David Morse (Hurt Locker), Thomas M. Wright (The Bridge), Ryan Hurst (Sons of Anarchy), Gillian Alexy (The Americans), Kyle Gallner (American Sniper), Christina Jackson (Boardwalk Empire), Joe Anderson (The Divide), and Francie Swift (House of Cards) and Rebecca Harris (The Good Wife).
Cast members will make an appearance at New York Comic Con on Sunday, October 9 to promote the new season.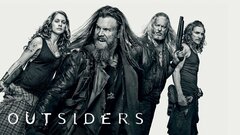 Powered by