On 'Outsiders', Will Asa and Hasil Become Allies? (VIDEO)
Salem, WGN America's first original series, has finally met its match in bringing eyeballs to the new cable channel. The latest series, Outsiders, about an isolated mountain clan battling a coal company threatening to evict them from their ancestral home has broken viewing records for the network in its first two weeks.
On Outsiders, Asa's (Joe Anderson) an outlier among his people because he left his home to live in the world for a decade—learning how to read and write—which earns him a "lostie" status, or someone who can't be trusted. Despite the slur, Asa's the only one who knows how the world works, and he may be the only one who can save the Farrells from getting killed defending their land, by finding sympathetic allies in town.
Along with Asa, Hasil (Kyler Gallner) is a bit of a lost soul and a social reject as well. He's fallen for a town girl who's never met anyone like the brash kid who has to be taught what a date is. Since everyone else ignores him, he may as well befriend his cousin, another fellow loner. After all, the worldly Farrell could explain to the lovelorn Hasil what a girl would like in a beau, and Asa could finally have a friend.
PHOTOS: A Who's Who Guide to the Wild Outsiders Family
On tomorrow night's episode, "Messengers," the Appalachian Batman, Asa, meets his possible Robin, Hasil. In the clip below, Hasil tries to strike an allegiance with Asa and is present when Asa finds out "a pretty fair-haired" girl has been staring at him all day at a clan wedding…though Asa only has eyes for G'Win (Gillian Alexy), the girl he once loved who's now with someone else.
Outsiders, Tuesdays, 9/8c, WGN America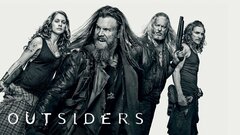 Powered by