John Stamos Is a 'Big Shot,' Getting Personal on 'Blue Bloods' and 'MacGyver,' A Special 'Mythic Quest,' 'Van Helsing's Final Season
John Stamos returns to TV in a feel-good sports comedy. Cases hit close to home on CBS crime dramas. With a new season looming next month, Apple's Mythic Quest brings its quirky characters back to the video-game design workplace. Syfy's Van Helsing embarks on a final season with the heroes taking on a female Dracula.
Big Shot
Life lessons abound in a heartwarming comedy series starring John Stamos as a basketball coach who finds his chance for redemption, after being tossed from the NCAA, by taking on a girls' team at an elite private high school. He'll have to adapt his abrasive style, and the teen athletes are also in for a period of adjustment, because they've never met anyone quite like Coach Korn.
MacGyver
The countdown to the reboot's April 30 series finale marches on, though not without protest from loyal fans hoping to save the show. In this episode, Bozer (Justin Hires) returns to his childhood home, where we meet his parents, played by the very recognizable Ernie Hudson and Wendy Raquel Robinson. Mac (Lucas Till) and Desi (Levy Tran) come along to help Bozer mourn his aunt, whose death may be due to foul play because of her activism in exposing the town's contaminated water supply.
Blue Bloods
Everything's personal in an episode where Frank (Tom Selleck) is shaken when his trusted aide Baker (Abigail Hawk) is assaulted on the street, and Erin (Bridget Moynihan) turns to her ex, Jack (Younger's Peter Hermann) to represent the defendant she's prosecuting. If that weren't enough, Eddie (Vanessa Ray) may have crossed the (blue) line when she openly undermines husband Jamie (Will Estes) at work.
Mythic Quest: Everlight
As a bridge between seasons, and a follow-up to the standalone (and standout) "Quarantine" episode, the workplace comedy set at a multiplayer video game's production studio brings nearly everyone back into the office. The occasion: an annual party where everyone gets into character for the role-playing game Everlight. One problem: misanthropic Brad (Community's Danny Pudi), the head of monetization, sees Everlight as a waste of time and switches things up while raising the stakes. Will evil triumph? Does it ever? Adding to the fun is the episode's narration, provided by Oscar winner and current contender Anthony Hopkins (The Father).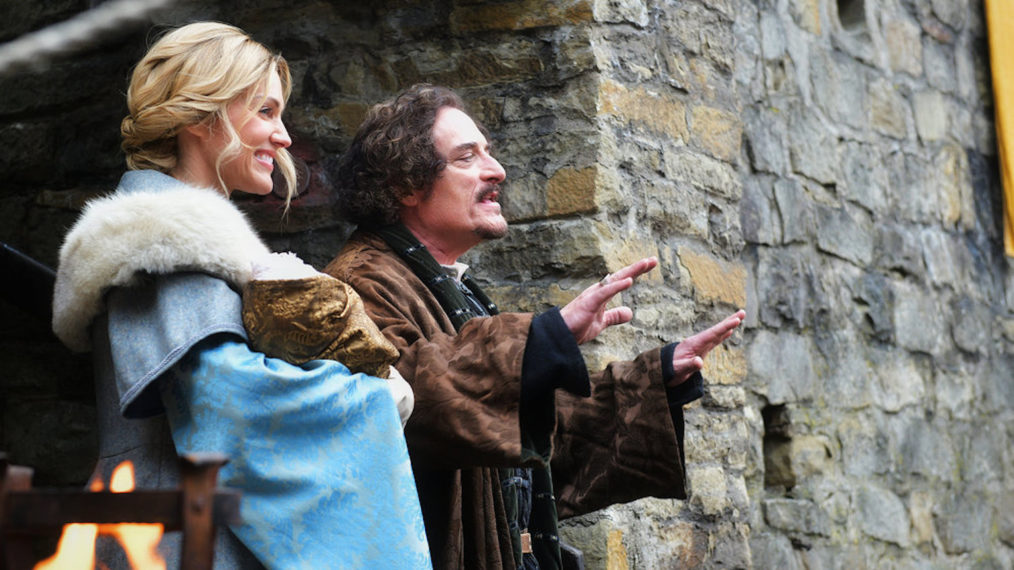 Van Helsing
The postapocalyptic horror romp sets up its fifth and final season as a battle royale between the Van Helsing vampire hunters and a Dracula like none other—played by Battlestar Galactica fan favorite Tricia Helfer. The first episodes of the final run explore Dracula's backstory as well as those of her adversaries: Vanessa (Kelly Overton), Jack (Nicole Munoz) and Violent (Keeya King). Will evil triumph? Does it ever?
Also on Apple TV+:
A curtain raiser for next Thursday's Earth Day, The Year Earth Changed is Sir David Attenborough's survey of how the natural world and wildlife responded during a year of lockdown, with closed beaches and cruise-ship travel halted, allowing people to engage with nature in a new way. This is joined by the second seasons of Tiny World, the fascinating nature series (narrated by Paul Rudd) that takes a close look at the earth's smallest creatures; and Earth at Night in Color, narrated by Tom Hiddleston, which uses new photographic techniques to reveal how animals behave after dark.
For All Mankind: The situation on the Moon gets heated in the second season's thrilling penultimate episode, with talk of a blockade in response to U.S. aggression—or was it all a mistake? The Department of Defense finally gets its hands on the Pathfinder mission, and rumors of nukes on board rattle NASA. The tension builds to a cliffhanger incident that will make you wish Apple would let us binge to the end now that it's finally getting exciting.
Inside Friday TV:
Earth Moods (streaming on Disney+): From National Geographic, a five-part series aims to get the nature lover in a meditative mood in advance of Earth Day on April 22. With gorgeous visuals and an immersive original score by Neil Davidge, Moods hits that Zen spot with episodes titled Frozen Calm, Night Lights, Desert Solitude, Peaceful Patterns and my current favorite, Tropical Serenity.
Frank of Ireland (streaming on Amazon Prime Video): A raucous comedy from brothers Brian and Domhnall Gleeson stars Brian as the hapless Frank Marron, who at 33 still lives with his mom and fancies himself a musician with little to show for it. As Frank wreaks havoc on the Emerald Isle, his buddy Doofus (Domnhall) does what he can to clean up the mess and stand by his exasperating pal.
Fast & Furious: Spy Racers (streaming on Netflix): The animated spinoff's fourth season takes teenage Tony Toretto (voiced by Tyler Posey) and his entourage of secret spies to Mexico City after they've been framed for a crime.
Beethoven in Beijing (9/8c, PBS, check local listings at pbs.org): Diplomacy through music and the timeless appeal of Beethoven are the themes of a Great Performances documentary that revisits the historic visit of the Philadelphia Orchestra to China in 1973, the first time an American orchestra performed in a country that was emerging from the notorious Cultural Revolution. China soon caught "Beethoven fever," and renowned musicians including pianist Lang Lang look back at the impact of the orchestra's successful tour.
On the true-crime beat, Dateline NBC (9/8c) investigates a puzzling murder in Kansas that's still unresolved 12 years and two trials later; and ABC's 20/20 (9/8c) goes even further back to a 1995 double-murder in Illinois, where Mark Winger nearly got away with pinning his wife's death on a second victim he had set up. The report includes a jailhouse visit with Winger and analysis from best-selling crime writer Harlan Coben.
OWN Spotlight: Viola Davis (10/9c, OWN): With an Oscar, an Emmy and two Tonys, and the potential of more honors to come for her performance in Ma Rainey's Black Bottom, Viola Davis chats with Oprah Winfrey about her career, the significance of blues legend Ma Rainey, and what it was like to work with Chadwick Boseman on what would turn out to be his final film project.
Real Time with Bill Maher (10/9c, HBO): This ought to be interesting. The irreverent Maher welcomes recently ousted The Talk co-host Sharon Osbourne for an in-studio interview.