'Curb Your Enthusiasm' Star Jeff Garlin Teases Season 11 'Touches On' COVID
If you've been wondering where Larry David and his crew are these days, rest assured because more Curb Your Enthusiasm is on the way.
HBO's fan-favorite comedy was renewed for Season 11 following a successful landmark 10th season run earlier last year. Thankfully, star Jeff Garlin is giving an update on the upcoming season's progress, as the actor opened up about production.
"I'm filming right now," said Garlin, who portrays Larry's best friend and manager on Curb, during an interview for The Ringer's podcast 10 Questions with Kyle Brandt.  "We have three more weeks left and we'll have a season that'll probably come out, I'm guessing, in the fall," the comedian conjectured.
Filming is taking place solely in Los Angeles, Garlin confirmed, noting that, "We've shot seven out of ten episodes." One of those ten installments will address the COVID-19 pandemic as well, as Garlin shared, "Except for the first episode, we don't do any COVID stuff."
"The first episode, it touches on [COVID], there's a couple of things. But it's a post-COVID world in Curb," he reassured. The comedian, who also stars in ABC's beloved series The Goldbergs, noted that viewers probably don't want to see too much about COVID, especially if they're looking for laughs.
When TV Insider caught up with Garlin ahead of Season 10's debut, he teased, "It's my favorite season we've ever done." But it seems like Season 11 might top it as he said during the podcast that it "is pretty gosh darn great. I'm pretty happy with it, I laugh every day."
Curb Your Enthusiasm debuted on HBO in 2000, running for eight seasons through 2011. The series returned for Season 9 in 2018 and has continued a consistent run since then. Catch up on all episodes by streaming them on HBO Max.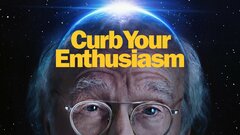 Powered by