The Stars of 'No Tomorrow' Give Their Bucket Lists
What would you do if you knew the apocalypse was coming? On the dramedy No Tomorrow, Evie (Tori Anderson) plays by the rules…until she meets her neighbor, Xavier (Joshua Sasse), who is living life to the fullest as he preps for the world to end in eight months. Evie is skeptical of Xavier's claims, but she's drawn to his carefree attitude.
RELATED: The CW Fall Trailers: Frequency, No Tomorrow and the Arrival of Supergirl
While the real world won't end just yet, the stars share their bucket lists.
Tori Anderson's Bucket List
• Surf in Bali.
• Make a documentary about seniors, allowing their stories to be heard.
• Take my niece on an adventure, like a hot-air balloon ride.
• Send my folks on a trip.
Joshua Sasse's Bucket List
• Work with a conservation project in Zambia.
• Climb the highest peaks in the world.
• Swim with sharks with no cage. I'm very scared of sharks.
• Meet an orangutan!
No Tomorrow, Series Premiere, Tuesday, October 4, 9/8c, The CW.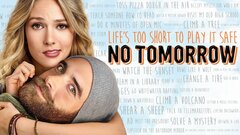 Powered by