'The Conners': Lecy Goranson on Becky's Spiral and the Family's Tough Love
[Warning: The below contains MAJOR spoilers for Season 3, Episodes 15 and 16 of The Conners, "An Old Dog, New Tricks and a Ticket to Ride" and "A Fast Car, A Sudden Loss, and A Slow Decline."]
It's been a tough road for Becky Conner (Lecy Goranson) on ABC's Roseanne spin-off, and it took another dark turn in the back-to-back episodes that aired Wednesday.
Last week on The Conners, Becky attended a reunion dinner with a successful high school friend and found herself describing a fictional life that, perhaps, she once envisioned but never achieved. Feeling fragile and ashamed, she kept the fact that she's an alcoholic a secret and went ahead and had a glass of wine.
See Also
Green plays a free spirit, and Bergen returns as Ben's (Jay R. Ferguson) judgy mother.
Now, it's clear Becky has been hitting the bottle more to deal with working double shifts at Wellman Plastics and not seeing much of her infant daughter, Beverly Rose. Once her family inevitably realized just how bad off she was, they did what the Conners do best—offered up some tough love.
TV Insider talked to Goranson about how Becky arrived at this low point, working with a "little Meryl Streep baby" as her young daughter and what she hopes Becky's journey will do for viewers—especially those who are afraid to ask for help.
Things really escalated for Becky in these episodes, and she's not doing well. How was it diving into this part of her story?
Lecy Goranson: It's so interesting that I've been with this character for so many years, and when this storyline and these scripts came up, it was actually very intense and very moving. I guess it sneaks up on you, that you are really invested in the character that you play and whatever they're going through. So, it was quite a journey.
It felt like a slow build to the story and Becky's situation, and then it all came to a head in these episodes. Do you agree?
I do. I feel like she's done a pretty…I was going to say a great job keeping things together, but actually, more or less, I do think that she has. But like so many mothers, like so many people, during this past year during COVID, we've really been pushed to our respective brinks. I think Becky is no different. She has been trying to keep a lot together for a long time, and I think this was just kind of the straw.
What do you think was specifically the last straw? Was it the dinner with her high school friend, Mikey (Darien Sills-Evans)? Or Beverly Rose not wanting to be held by her?
It's a combination of many, many things. The saddest thing, I think, about that dinner with Mikey…it reminds me of some of my high school friends that really love you unconditionally no matter what you're going through. Mikey is the kind of person that would support Becky and love her and that she could be real with, but she doesn't know how to process that kind of support, to the degree that she has to lie to him.
And the fact that she has to lie to him, or she feels inclined, is the most heartbreaking thing of all. Because you can see in their relationship that this is a loving person that really, really loves her as a friend, and it's just so sad. But she was also reminded of that part of herself, and it was almost like a kick in the pants: "What have I been doing all these years? What have I been doing with my life? How have I compromised myself?" And, "Why am I so out of touch?"
Becky would normally lean on Darlene (Sara Gilbert) with something like this, but once Becky told Darlene that she had one drink, Darlene came down on her hard. Do you think that's why she doesn't feel like she can go to Darlene after that?
The seed is planted in the scene with Mikey. It's not the same, but this is someone who loves her. Darlene is someone who loves her. There is no one [to whom] Becky can admit to this level of shame.
And the fact that she is trying to do it all: She's trying to suddenly take classes for school. She's trying to advance her career. She's trying to earn money. She's trying to take care of her baby. I think that she feels such shame, that there's no one on earth that she really feels like she can be honest and real with, and that's what happens with a lot of people who need help. There's such a rich, thick level of denial, such a protectiveness of that kind of vulnerability, that she not only hasn't done it in the past, but she can't catch up.
There's one of the lines where she says, "I feel like I'm drowning." And I think that when you feel like you're drowning, you really don't see a life raft. It's intense. It's sad. I really actually have a lot of respect for Becky and so much love for her. And to see all these family members and Mikey reaching out saying, "I love you. I want to help you," and her not being able to take that is really hard.
And, of course, the family offers up their brand of tough love, don't they?
Absolutely. I don't think there's any love tougher than a Conner love when it really comes bearing down on you. But the family rallies, and they kind of come together and say, "Look, this is going a really bad way. The jig is up." Again, this is Becky's shame, her protective layers. Her walls just kind of spring up and say, "Back off." Her Achilles heel is that she would be a bad mother—and the notion that anyone would think she was a bad mother, I think, hurts her like nothing else.
The baby who plays Beverly Rose gives one of the best performances by a baby I've ever seen when she doesn't want to go into Becky's arms. I was so blown away by that.
Every time we have a baby on set, and there were two of them, it was like a little Meryl Streep baby. It was so, so devastating, and the whole crew was in tears. But of course, not to break the smoke and mirrors, there's always a well-placed mommy that can really help the scene. The actual mommy being behind the front door, or up the stairs, or out of shot does wonders for a young actress like the ones that we had.
Also, bringing back the Molly Tilden character (played by Danielle Harris) from the original series, that impacts Darlene in a big way.
It's so funny because I was gone [from the original series] by the time she was a character on the show, so I had never met her, but I love that our show is in a position, after all these years, to bring up some of this history. But basically, what's really interesting about the Becky/Darlene relationship is in some ways they are truly living parallel lives. Mikey coming back and being a catalyst for Becky, it's very similar to what Molly does for Darlene. This is a ghost of her past that comes back and brings Darlene very much from her past to her present.
What do you hope viewers take from these episodes?
In terms of the Becky storyline, that, as difficult as it is, it is okay to ask for help. And even though we live in a society of Instagram where people are on vacation in their bikinis and have their beach bodies and it's filtered, our authentic selves are worthy of love. That means in the ugliness of them, in the rawness of them, in the discomfort of being our authentic selves, that there are loving forces out there that support whatever that means. It sounds like something we've heard a million times, but I do, in fact, think it can be very hard for us to have confidence that our authentic selves will be loved and supported.
The Conners, Wednesdays, 9/8c, ABC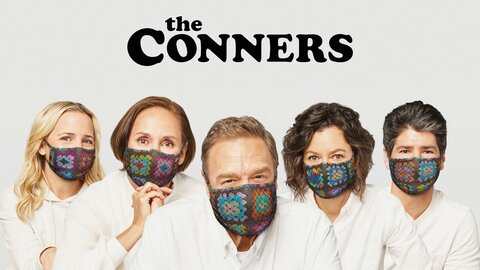 Powered by