AEW's Brandi Rhodes Talks TNT's 'Rhodes to the Top' — and Becoming a Mom
Brandi Rhodes is not only the badass Chief Brand Officer of All Elite Wrestling and also a butt-kicker in the ring. And the mom-to-be is taking on yet another title soon — reality TV star. Alongside her wrestler husband Cody Rhodes (Go-Big Show, and son of the late great Dusty Rhodes), the duo will star in a new unscripted series, Rhodes to the Top.
The 30-minute episodes will go behind-the-scenes of their lives, from wrestling to their growing family life. Below, Rhodes reveals what we can expect from the new series and more.
How did this new series come about?
Brandi Rhodes: We started to talk with TNT and WarnerMedia about this right before COVID hit. We were approached by Shed Media [a division of Warner Bros. Unscripted & Alternative Television]. They had this idea, we talked about it and kept in touch. As soon as WarnerMedia started shooting again, we started putting together what the show would look like. It's going to be different than I believe a lot of people think. It's a good opportunity, but what it does more than anything is show the relationship TNT and AEW have. They like us. We really like them.
You have some reality show experience as a cast member on WAGS: Atlanta. Did you have any trepidations about doing reality TV again after that experience?
I would not be a cast member on a show like that again. WAGS: Atlanta had great people. They had interesting stories. They had a terrible director and producers, so that is what happened. In this case, Cody and I are producers. We know what the content is that we are going to be filming. It's somewhat collaborative because [AEW owner] Tony Khan is an executive producer. Then we have our Shed and TNT family. It's a much different feeling when you have the ability to say, "these are the stories and moments coming up we would like to focus on." It's a completely different situation this time.
What is it like to have cameras out with your first baby on the way?
It's pretty cool to have these videos forever. When the baby's born, they'll be able to look back on this and say, "there I was in mom's tummy while all these crazy things are going on." I didn't have that when I was a baby. I have pictures, but it would have been cool to have an inside look at what my mom and dad were up to while I was in the making. I'm really excited for the moment my child makes it into the world because we get to have all these experiences with them. Right now, it's the anticipation and waiting game, but we're getting close.
Are you going to allow cameras in the delivery room?
Hell no! I'm barely going to let Cody in the delivery room. I actually decided to bring in a doula because I'm allowed my doctor, Cody, and my doula. So, I'm bringing one just in case Cody can't handle the heat. I've seen some really big men go down in the delivery room.
Who else do you think has the potential of being a Rhodes to the Top star? I mean I personally think it could be your dog Pharaoh.
I'm going to not show this part of the interview to Yeti Pinkerton. It's so you can have a good relationship with Yeti. He is actually learning everything from Pharaoh. Yeti is a Pomeranian that thinks he is a wolf. He is nuts, but he has the sweetest little heart. I think the combo of Yeti and Pharaoh is going to be really big on the show. Cody's mom does not seem to think she has camera magic. Just from seeing her in clips, a lot of people are intrigued with Michelle. Also, my mom. Holy crap, I hope you're ready. She is something, and when I say something, I mean something really good. A family friend Darryn, we all love. He is a ham. I compare Darryn to David Rose from Schitt's Creek. I think we have really compelling family members and friends.
How do you compare filming this show with AEW where you film Dynamite at Daily's Place in Jacksonville?
WarnerMedia has different protocols. It's a crazy thing where we are having to satisfy so many protocols to be able to film in both places. I've never been more confident that I'm healthy in my life because of so many tests I've had to have. The crew and everyone are tested every couple of days. It's a tightly run ship and is as safe filming as it is at AEW. I'm very happy with that.
How do you think it will be juggling your demanding job, travel and parenthood?
I plan not to miss a beat. There is obviously the reality that once you come home from the hospital you do have a recovery period. I will do my best to be patient and let that healing process happen. As soon I'm cleared by doctors and ready to go, I'm back to work fully. I'm going to be back on the road. I'm definitely not going to stay at home. My plans are not to travel with the baby. We do have a fantastic nanny on hand that we're really excited about. She will be an integral part of the baby's life. We also have a great supportive family in Atlanta as well. I like new challenges and new things happening. This baby is the biggest challenge that I've been faced with. So I'm like, bring it on. I can't wait to meet her and see what works for her and doesn't work for her. How I can adjust. I think we're going to be an awesome team.
Why is it important to share with your fans these milestone moments?
It's something I like to do. I like to feel close to people, especially during this period of time where we're not able to be physically close with our fans. I'm very hopeful that sometime soon we'll be back in a situation where we are interacting more and having conversations with fans in person. For now, we have the means we have. I went into this not one of those people who knew they were going to have kids… Now having a child is such an important thing to me. It's great to share things like the new show with everyone.
Rhodes to the Top, TBA, TNT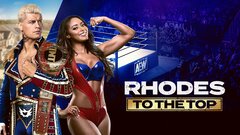 Powered by