Monday TV Ratings: 'The Voice' Premiere Wins the Night Opposite 'The Bachelor'
The Season 20 premiere of The Voice was the clear winner on Monday, just edging out The Bachelor in the key demo among adults 18-49 (1.1 rating vs. 1.05) and topping the night in total viewers (7.75 million). Fox's 9-1-1 came in second for the latter with 6.2 million viewers (and a 1.0 rating).
Elsewhere, Debris debuted on NBC after The Voice to a 0.6 rating and 4.4 million viewers (winning the time slot, but it was up against reruns of Bull and The Good Doctor), while 9-1-1: Lone Star was steady with last week.
Here's the breakdown for Monday, March 1, 2021 (numbers are fast-affiliate based):
| | | | |
| --- | --- | --- | --- |
| Time | Show | Adults 18-49 Rating | Total Viewers (millions) |
| 8 p.m. | The Bachelor (ABC) | 1.1 | 4.7 |
| | The Neighborhood (CBS) | 0.5 | 3.6 |
| | The Voice (NBC) | 1.1 | 7.8 |
| | 9-1-1 (Fox) | 1.0 | 6.2 |
| | All American (CW) | 0.2 | 743,000 |
| 8:30 p.m. | Bob ♥ Abishola (CBS) | 0.4 | 3.3 |
| 9:00 p.m. | The Bachelor (ABC) | 1.0 | 4.3 |
| | All Rise (CBS) | 0.2 | 2.1 |
| | The Voice (NBC) | 1.1 | 7.7 |
| | 9-1-1: Lone Star (Fox) | 0.8 | 5.2 |
| | Black Lightning (CW) | 0.1 | 414,000 |
| 10 p.m. | The Good Doctor (ABC) | 0.2 | 1.9 |
| | Bull (CBS) | 0.3 | 3.0 |
| | Debris (NBC) | 0.6 | 4.4 |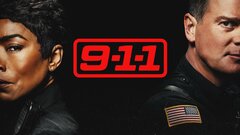 9-1-1
where to stream