Sarah Jessica Parker on Coming Back to HBO in 'Divorce'
Sex and the City didn't make Sarah Jessica Parker an icon to an entire generation of women—not even to the ladies who dropped whole paychecks on Manolo Blahniks as they emulated her shoe-addicted, fashion-savvy heroine, Carrie Bradshaw. No, SJP worship was a done deal way before the iconic HBO comedy's 1998 premiere.
It started with her 1982 series debut on CBS's Square Pegs, where Parker played—and played well—high school semi-nerd Patty Greene, the teenager most girls identified with. Then she was a romantic, unsung sidekick (Footloose) and the reluctant rebel made to pick between her dad's wants and her own (Girls Just Want to Have Fun). Off screen, she was pretty, stylish and perspicacious. Parker was the It Girl and the Everygirl, which continued into her SATC years as Carrie and her fans navigated (in designer heels, hopefully) their lives.
RELATED: HBO Sets Westworld, Divorce, Insecure Premiere Dates
Now the actress, 51, is back on TV full-time after a 12-year hiatus, portraying a woman going through another stage of life and love in HBO's Divorce. Parker portrays Frances, a corporate headhunter who put her dreams of owning an art gallery on hold to move out of Manhattan and support her ex-stockbroker husband, Robert (Thomas Haden Church), when he began a career as a house flipper in Westchester County. Then the real estate market tanked.
Years of being the sole breadwinner, mortgage payer, insurance supplier and grocery buyer for their two adolescent children have wearied Frances. In the opening scene, she gives Robert the finger behind his back after he complains about her bathroom use. That night, the pair witness a fight between their married friends Diane (Molly Shannon) and Nick (Tracy Letts) that ends in gunfire. (Did we mention this was a dark comedy?) Robert feels reborn. Frances realizes she needs a divorce. As she sadly states, "I need to save my life while I still care about it."
Diane and Nick, on the other hand, end up stronger than ever. "A relationship can survive anything…until it can't," executive producer Paul Simms says. "One not only survived a shooting but was repaired by it." The other? Well, that's what the next nine episodes are about.
The idea for Divorce came to Parker, also an executive producer on the series, four years ago. "I started thinking about how many different versions of marriage there are," she recalls. "I saw my friends at various points in their own marriages—getting divorced, thinking about getting divorced, contemplating affairs, having survived affairs, having not survived them. I wanted to tell the truth about what divorce can look like, what an attempt at divorce can look like and what marriage at this point can feel like if you're in it and you want out. I'm not a writer. I couldn't tell the story. I could just talk about what was interesting to me."
The actress and her producing partner, Alison Benson, took the project to HBO, where Parker had a first-look deal. "We knew it was the place that could make it with the tone we wanted," she admits. "There are so many shows about marriages. They're funny, bright and buoyant. We wanted to explore it in a different way." The network, in turn, set them up on a "blind date" with Irish writer and actress Sharon Horgan (one of the minds behind the Emmy-nominated marriage comedy Catastrophe). "Sharon came to the meeting with lots of ideas I hadn't considered exploring," Parker says. "I really liked her voice, and was especially excited about that voice telling this story."
London-based Horgan signed on to create the show, with HBO bringing in Simms (who also shepherded Lena Dunham's Girls to the screen) as her co-showrunner. The kink: Parker, who has been married to actor Matthew Broderick for nearly two decades and has three children, had zero plans to return to TV and was developing the series without herself in mind as the star. But not everyone got that.
"It became clear to me that they assumed I would be Frances," she says. "So I thought about that and what it would mean, what I knew it would require of my family in certain ways, what I would expect of myself while in production, being on camera and behind the camera. I ultimately got the blessings of my family, and my husband was very encouraging, so I said yes."
RELATED: HBO Confirms Game of Thrones End, True Detective's Future, Deadwood Film Update
To play her counterpart, Robert, Parker had just one choice: Oscar nominee Church, with whom she costarred in the 2008 film Smart People. Enter kink No. 2: He hadn't been on TV in a decade and would have to relocate to New York from Texas. "I did my years with the networks," says the actor, who starred on Wings and Ned and Stacey. "They were great learning experiences, but they were very frustrating, and when I finally finished in 1999, I really, truly felt, 'That's it, man. I'm never going back.'" But Parker knew his weakness. "HBO is a very attractive home for actors," she says, "and the pilot script was strong."
Church received it in early 2015, with a personal message from Parker saying that no one else had been considered. "I got immediately hooked into Robert as this guy who, in his soul, is always just barely holding back doom," says Church. "He asks his 11-year-old if she would kill for him [in one episode]. Robert is absolutely serious. Her response is very funny, but there's s–t like that all through the season where you go, 'Wow, this guy is having trouble.'"
The pilot filmed just a few weeks later, in one of the whitest New York winters in recent history. That began as a blessing. "We wanted the episodes set in the cold, bleak light of winter," Parker says, "with the ice moving slowly down the Hudson River, the trees and the curbs and school buses covered in snow. You can imagine how it feels to commuters catching trains to jobs in the city like Frances."
Yet, by the time the series started full-on filming in the fall, New York was in a warm spell. ("We were the only people praying for bad weather," remembers Simms with a laugh.) So most of the snow is effects magic. But nothing else is fake about Divorce, for which Church credits Parker. "She doesn't suffer fools," he says, "and she will politely let you know. We didn't return to TV going, 'Hey, let's just be on HBO, get some ha-has and make some money.' It had to be more intriguing."
"The show had to be real," Parker adds, again tapping into what made her so great in the first place. "Frances had to be the person who actually feels those things that aren't pretty, that can be prickly and cruel. When she gives Robert the finger at the start, that was just something I improvised in the moment, because it just felt that's how she would feel." Carrie would be proud.
Divorce, Series Premiere, Sunday, October 9, 10/9c, HBO.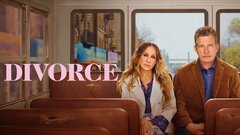 Divorce
where to stream
Powered by