'The Adventures of Papchu and Dr. Kapatoo' and Other Disney Shorts Aim to Encourage a Healthy Lifestyle
As the fall season begins, busy schedules can get in the way of staying healthy. Disney hopes to change this mentality with the addition of new educational shorts and cartoons that will air on Disney Channel, Disney XD and Disney Junior this fall.
In the exclusive clip below, characters from The Adventures of Papchu and Dr. Kapatoo discuss the importance of greens in your diet.
And in this exclusive Training With the Guard short, Rafiki demonstrates yoga-inspired poses that are easy enough for almost any child to master.
Other Disney Channel characters, from shows such as Star Wars Rebels, Guardians of the Galaxy (pictured above) and Gravity Falls, will also appear in new, quirky interstitials that promote healthy living.
These shorts will air between full episodes of various Disney shows starting in October.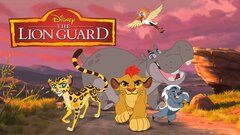 Powered by