'Life Below Zero' Episode 150 Goes Inside Building a Tree House (VIDEO)
Why not kick off the new year with a milestone for a National Geographic hit and by learning life skills from those who fight to survive in remote corners of Alaska?
Life Below Zero's 150th episode airs on New Year's Day, and TV Insider has an exclusive sneak peek of Ricko DeWilde teaching his children some important lessons while they build a tree house.
The kids are, of course, excited to make it big, but as DeWilde explains, they'll also be learning a lot. The "same basic pattern" of a treehouse is used to construct other buildings such as smokehouses. "Further down the road," these are "the skills they're going to need to know," he adds.
Watch the clip above as he details the right materials to use to build the structure, what to clear out from the area, and more.
Also in the 150th episode of Life Below Zero, with winter approaching, "the tough Alaskans toil to secure scarce food and opportunity during the fleeting warm days of summer," the logline teases. Sue Aikens finds an unexpected bounty on the tundra and changes her plans, while Andy Bassich deals with losing a vital resource. Plus, Jessie Holmes and his dogs check out unexplored country.
See Also
Also, find out why the 1800s cabin the National Geographic star is restoring is so special.
2021 will also see new episodes of the spinoff, Life Below Zero: Next Generation (which follows those who rejected contemporary life and choose to live in the Alaskan wilderness), weekly beginning Tuesday, January 19. The Life Below Zero season finale airs Tuesday, January 12.
Life Below Zero, Episode 150, Friday, January 1, 9/8c, National Geographic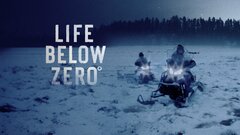 Powered by