'Chicago Med' Boss on Season 2's Many Changes
"This is a season of real change," says exec producer Andrew Schneider of the NBC medical drama Chicago Med as it enters its second go-round.
RELATED: More Scoop on Fall Shows
And how. The pathology department lost Sarah Reese (Rachel DiPillo) to psychiatry. The new med school grad is now shadowing emergency psychiatrist Daniel Charles (Oliver Platt). Onetime trauma surgeon Connor Rhodes (Colin Donnell) has a fellowship in the cardiothoracic unit. Senior ER resident Will Halstead (Nick Gehlfuss) has moved up to the more powerful attending position in the department. Iraq veteran and beleaguered new chief resident Ethan Choi (Brian Tee) joins a Navy program that uses his combat medical skills to treat Chicago's numerous gunshot victims.
Watch an exclusive clip of the season premiere:
The upheaval hits the staff's personal lives as well. Nurse April Sexton (Yaya DaCosta) must deal with her newly diagnosed tuberculosis and its affects on her fiancé and her livelihood. War widow and pediatrician Natalie Manning (Torrey DeVitto) has finally taken off her wedding band, ready to rejoin the singles world, giving Halstead some hope. Chief hospital administrator Sharon Goodwin (S. Epatha Merkerson) also faces the solo life since her longtime husband left her last season. But, teases Schneider, "There could be a romance down the road for Goodwin."
RELATED: Chicago Med: Should the Law Dictate How Lives Are Saved? (VIDEO)
Some of the docs, however, don't quite take to the changes they're faced with. Look for Rhodes and his new boss Isidore Latham (guest star Ato Essandoh) to quickly lock horns. "He's not a father figure like Rhodes's late mentor, David Downey," says executive producer Diane Frolov. "He's very emotionally distant." Both men "have strong personalities and they don't exactly jibe," says Donnell. "Latham may be a very prominent surgeon, but so far it's a prickly relationship."
As for Halstead, he is far from impressed with fourth-year med student and former firefighter Jeff Clarke (Jeff Hephner, crossing over from a Chicago Fire stint). Could it be because of Clarke's renewed friendship with Manning? "Jeff makes her feel young again," says Schneider. That seems to be just what the doctor ordered.
Chicago Med, Season Premiere, Thursday, September 22, 9/8c, NBC.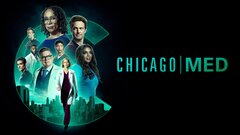 Powered by