'Adventures of Supergirl' Comic Adds New Chapter to Kara Zor-El's Saga
Supergirl is jumping from CBS to The CW this fall, but even in her new home on the comic book friendly network there are limits to what the show can do. Take, for example, the idea of seeing our hero riding a giant cat into battle against an army of talking wolves.
For that kind of spectacular sequence, you'll have to turn to the pages of Adventures of Supergirl, a companion comic book which DC Comics debuted earlier this year as a digital series. The story wrapped in July, with a printed collection of the entire 13-chapter story on sale in comic book shops on September 21 and in other book stores on September 27. (The digital version is available via the DC Comics app, readdcentertainment.com and most major e-book stores.)
Not restricted by the budgets of a TV series, Adventures of Supergirl writer Sterling Gates created a dazzling and fantastical story involving classic comic villains and introduced a mysterious new nemesis with ties to the show's Fort Rozz prison plot. Many members of the TV supporting cast appear in the emotionally charged story.
Gates found inspiration not just from his experience writing DC's main Supergirl comic from 2008 to 2011, but from his rotating team of artists, including the aforementioned feline fantasy sequence (pictured below).
"I always try to reach out to artists and ask them what they want to draw," Gates says. "And Emanuela Lupacchino said, 'I really want to draw my cat. He's the huge white cat, his name is Mario, can you please find a way to work him into the story?' We were always going to do that big dream battle sequence. And so I wrote her riding a giant battle cat and the pages came in, and that's Ema's cat."
In addition to Lupacchino, other artists who worked on the book include Bengal, Emma Vieceili and Carmen Carnero. Cat Staggs created the gorgeous photo-realistic covers (see below).
RELATED: Supergirl Star Melissa Benoist Reflects on Her First Year in the Cape
Writing this new version of Supergirl was an easy transition for Gates, who is a big fan of the character. "She is an unwaveringly optimistic voice in a very dark and cynical world," he says. "That positive note in a very dark place is, to me, what makes that character shine. No matter how things are, she's always trying to do the right thing. And I think that carries through every incarnation of Supergirl, there is always that positive light to her. If you make that your starting point, you'll never go wrong with a Supergirl story."
No word yet from DC on more chapters of the comic, but Gates is ready to go. "Supergirl is a character that has been in my head for a long, long time," he says. "I've got ideas for days for her."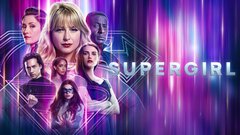 Powered by