Roush Review: Weekend Premieres of 'Quarry', 'One Mississippi', 'Son of Zorn'
Connoisseurs of popcorn pulp TV have found a new haven in the scruffy, raunchy wilds of HBO's dark-horse cousin Cinemax, which offers its first contemporary period drama in the compellingly extreme thriller Quarry.
Adapted from Max Allan Collins' books by Rectify veterans Michael D. Fuller and Graham Gordy, with the entire eight-episode season helmed by Emmy-winning director Greg Yaitanes (House, Banshee), the series is set evocatively in 1972 Memphis, with the polarizing Nixon-McGovern presidential election, the Munich Olympics tragedy and regional racial unrest as provocative backdrops to the wild yarn that unfolds. The unlikely premise kicks off with taciturn Vietnam vet Mac Conway (Logan-Marshall Green channeling early Sam Elliott, complete with bushy mustache) returning home to the opposite of a hero's welcome, and soon finding himself trapped in a grisly new vocation as hit man for hire, working for the mysterious Broker (Top of the Lake's excellent Peter Mullan).
More Roush Reviews: See What Matt Thinks About Other Shows
Even before being sucked into this dangerous, possibly vigilante underworld, Mac's already on edge. With his military past clouded by scandal, he's now suffering from PTSD visions (before anyone knew what that was) as he uneasily reunites with sexy but wary wife Joni (Jodi Balfour, who becomes scrappier as the show progresses). A stone-cold killer when required—ergo the nickname "Quarry"—man-of-few-words Mac is frequently and reluctantly teamed with Quarry's most unforgettable character: chatterbox Buddy (Justified's terrifically entertaining Damon Herriman), a disillusioned gay psychopath whose scenes with his hilariously caustic mama, Naomi (The Leftovers' remarkable Ann Dowd), are worthy of their own spinoff.
As you'd expect with Cinemax, the sex is graphic, the brutal violence even more so, but as with Banshee, there's also an unexpectedly visceral emotional urgency to Mac's yearning for peace in this pungent Southern Gothic swamp of turbulent mayhem.
HOME UNSWEET HOME: A different sort of Southern hospitality awaits comedian Tig Notaro in the painfully funny autobiographical tragicomedy One Mississippi, whose six-episode first season is available for streaming on Amazon. With a withering, dry wit that could wilt a steel magnolia, Notaro is a survivor, though barely thriving as the series opens with her weary homecoming from California to bucolic Bay Saint Lucille.
Bearing physical and psychological scars from her battle with breast cancer, and suffering from an intestinal ailment and an impending break-up with her girlfriend (Casey Wilson), Notaro has arrived just in time to be at her dying mother's (Rya Kihlstead) bedside. Are we laughing yet? Well, a nurse does, bursting into macabre hysterics when Tig emerges alone from observing her mother's last breaths to ask, "Do I just leave?" No such luck. There's much baggage to be sorted out with her genial but aimless brother (Noah Harpster) and their rigidly aloof stepdad (John Rothman, a standout).
Notaro has mined much of this material in her acclaimed stand-up act, filmed last year for a terrific HBO special, Boyish Girl Interrupted. Her deadpan style of droll, smart sarcasm in the face of life's darkest absurdities—displayed in a series of radio monologues—serves her well in this beautifully observed "traumedy," which is Amazon's term for the show. Sample: When a doctor advises a "fecal transfer" to treat her latest ailment, she declines, adding, "I don't care how fun that sounds." The emotions are often raw, but with Diablo Cody and Louis C.K. joining Notaro as executive producers, there's a delicate tone of wry naturalism and unforced humor in One Mississippi that keeps it from ever lapsing into sentimentality (which would make Tig cringe) or self-pity (which would make her laugh).
TOONED UP: Getting a week's jump on the official start of the networks' official fall season launch, Son of Zorn aims to bridge the gap between Fox's live action and animated comedies on Sundays. (This preview episode airs at 8/7c, following an NFL doubleheader, but the show is regularly scheduled at 8:30/7:30c between The Simpsons and Family Guy.) From the producers of The Last Man on Earth, this is even higher-concept tomfoolery, introducing the cartoon warrior Zorn (voiced by Saturday Night Live veteran Jason Sudeikis), a belligerent alpha barbarian from the embattled mythical island of Zephyria. The pilot episode is a fun but strained one-joke sitcom of incongruity, as half-naked Zorn flies to California in have-sword-will-travel mode, stuck in an airliner's middle seat where none of the flesh-and-blood humans around him seems to notice his Herculean stylings.
He's on his way to celebrate his son Alangulon's—but please, call him Alan—17th birthday. And Son of Zorn hopes we'll find endless merriment in how everyone treats this ridiculous hulk with matter-of-fact bemusement. Alan, as fate would have it, is a charmless nerd (Johnny Pemberton), mortified by his absentee dad's unbridled ways. Zorn's equally unfazed and unimpressed ex, Edie (Curb Your Enthusiasm's Cheryl Hines), has settled into suburbia with milquetoast psychology professor Craig (another SNL alum, Tim Meadows), and insists, "That was the old me," the wild woman who used to have sex with mountain trolls.
RELATED: Son of Zorn: Zorn Attempts a Job Interview (VIDEO)
When Edie shames Zorn to stay in the real world to be a part of his son's life for good, Son of Zorn reveals itself to be just another version of a fish-out-of-water sitcom, enhanced by the mix of animation and live action. Look, Zorn's doing laundry! He can't manage a cell phone's voice-mail system! And so on. The funniest bits involve him taking a dreary cubicle sales job, and Zorn's "wait, what?" interactions with boss lady Linda (Scandal's Artemis Pebdani) are a hoot, in part because he can't wrap his mind around having a woman superior, so he chooses not to believe it.
I look forward to the episode where Zorn watches Hillary Clinton in a debate (or whatever may come next). But unless it finds some new jokes to tell, I'm afraid Zorn may be more of a miss than a myth.
Quarry premieres Friday, Sept. 9, 10/9c, on Cinemax
One Mississippi premieres Friday, Sept. 9, on Amazon
Son of Zorn previews Sunday, Sept. 11, 8/7c on Fox (regular time period, starting Sept. 25: Sundays at 8:30/7:30c)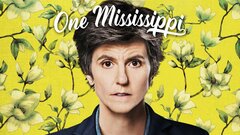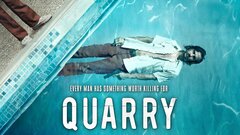 Quarry
where to stream