Emmy-Nominated 'Gaycation's Season 2 Trailer Is Here
The second season of the Emmy-nominated docu-series Gaycation cannot come fast enough as the world continues to recover from the recent tragedy in Orlando as well as hot button issues such as gender neutral public bathrooms and violence against LGBT people.
But as Ellen Page and Ian Daniel beautifully proved during the first season of the Viceland series, Emmy-nominated this year in the Outstanding Unstructured Reality Program category, there's a balance to strike when showing both the dark and the light happening in the world for LGBT people.
RELATED: And the 2016 Primetime Emmy Award Nominees Are…
Season 2 arrives on September 7 with the Ukraine and India being just two of the stops Page and Daniel make in their journey to uncover what it's like to be queer around the world.
Here is the Season 2 trailer:
In case you missed the show's special installment on the Orlando massacre, you can watch the full episode on the Viceland YouTube page.
Gaycation returns for Season 2 on September 7 at 10:30/9:30c on Viceland.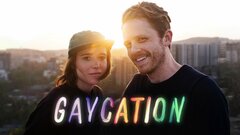 Powered by