Who Must Pay the Price for Revenge on 'Yellowstone'? (RECAP)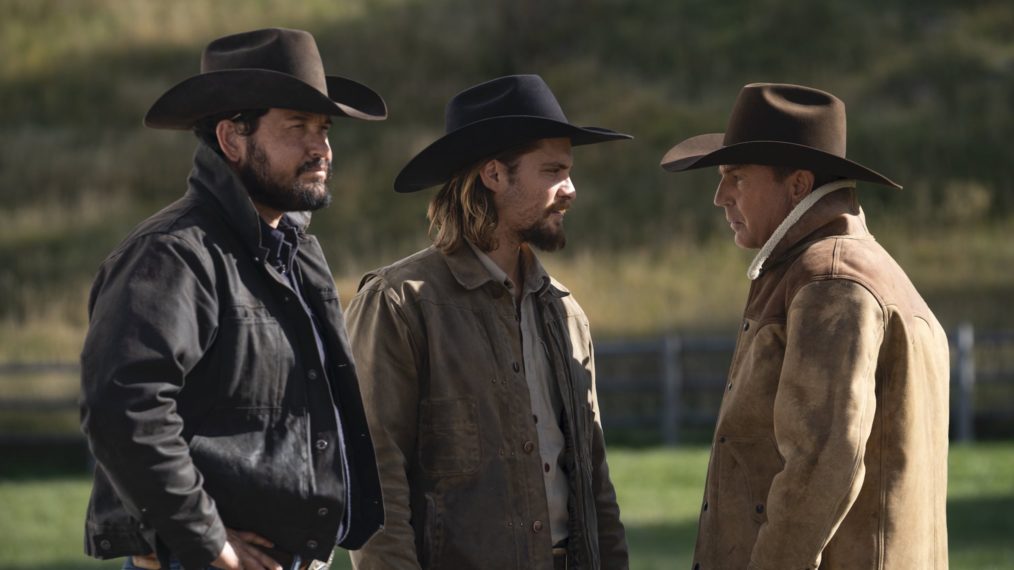 Meaner Than Evil
Season 3 • Episode 9
[Warning: The below contains MAJOR spoilers for Season 3, Episode 9 of Yellowstone, "Meaner Than Evil."]
The penultimate episode of the season is its most intense yet.
Yellowstone reveals ranch hand Colby (Denim Richards) and Teeter's (Jennifer Landon) fates after John Dutton's (Kevin Costner) former friend and current enemy, Wade Morrow (Boots Southerland), and his son, Clint (Brent Walker), attacked them in the river—and who exactly hired them. And what happens next? It's a bit hard to watch.
Meanwhile, Beth (Kelly Reilly) finds Market Equities CEO Willa Hayes (Karen Pittman) waiting in her office… to fire her. Beth cost her shareholders billions, and now they're the majority owners of Schwartz & Meyer. And Willa's more than happy to gloat about her plan for the land around John's ranch. She also suggests Beth call her about a job once the sting of being fired fades.
Plus, after one discussion, Kayce (Luke Grimes) and Monica (Kelsey Asbille) decide to homeschool their son, Tate (Brecken Merrill), since John can teach his grandson how to run the ranch that will one day be his.
And what about Walker (Ryan Bingham), the ranch hand who shouldn't still be alive? Well, he has a decision to make about his future (and whether he'll continue to have one).
Searching for Identity
Let's get the Jamie (Wes Bentley) of it out of the way. After learning John adopted him, he looks for his biological father, Garrett Randall (Will Patton), who's been released on parole. (He'd went to prison for killing Jamie's biological mother.) He just wants to see if he recognizes anything of himself in Garrett, something he tells his biological father when he finds him.
Jamie has his mother's eyes, Garrett notes, adding that drugs stole their future from them. Jamie presses for why Garrett killed his mother, and he eventually reveals, "Your mother sold her body for drugs, and I killed her for it. That's who you are. That's where you come from." While he's grateful that it appears Jamie got the "good" parts of his biological parents, Garrett also knows if things had happened any other way, his son would be dead, in prison, or working alongside him—not the attorney general.
But while Garrett may want him to leave, Jamie doesn't get in his car. Instead, he tells him he needs to know him. "I've never known who I was. I've never felt like I was whole," he explains. "I need to know you. Or I will never know myself."
Bad Timing
"Meaner Than Evil" immediately reveals Colby and Teeter survived, but she has a really nasty cut to the side of her head. (He staples it closed.) And after she's spent all this time making her attraction to him clear, he kisses her. "You should have f**ked me when I still had a face, but that's alright, we'll work on your timing," she tells him.
Meanwhile, Walker leaves the bar where he's been singing, only for the Yellowstone ranch foreman Rip Wheeler (Cole Hauser) and ranch hand Lloyd (Forrie J. Smith) to toss him in the back of their truck. Once back on the Dutton property, Rip has questions for Kayce, mainly about why Walker's even alive. (Walker had seen some of their shadier dealings, and they couldn't have that loose end.) Kayce may have killed men, but he's never murdered one, he explains. And now Walker has a decision to make: prove that he can be trusted or die.
Wade and Clint visit hedge fund manager Roarke Morris (Josh Holloway) to give him an update. They're pushing, but Wade doesn't want to go back to prison to get killed. Keep going, Roarke insists, and someone better get dragged because they can't sue for damages if there's no damage. "Keep poking until [John] does something he can't take back," he orders.
Speaking of John, he tries to get through breakfast, but Kayce, after he and Rip come across the injured Colby and Teeter, pulls him away. The ranch hands are already loading up rifles as John walks to the barn, where he sees Teeter getting stitched up and Walker hanging in the back—two separate things, he's told. Wade Morrow ran down Colby and Teeter, and the boys want to go after them. But John knows this is what Wade was hired to do. Be smart, he advises Rip. Figure out a plan that works and "take that trash to the f**king train station." Oh, and Wade has something that belongs to him. John wants it back.
Seeing everyone arming up may be what drives Mia (Eden Brolin) away, though her friend, Laramie (Hassie Harrison), becomes interested in Walker as soon as she sees him. But they have a job to do, and while Colby tells Teeter she doesn't have to come, she refuses to miss it.
Meaner Than Evil
Wade and Clint spot Walker along the fence by himself and head right for him to stir up trouble… only for the others to come up behind them on their horses. Wade starts shooting, but Rip lassoes him, and Clint takes himself out by running into a tree branch. "Got off easy," Lloyd tells him.
Everyone gathers as they string Wade up on a tree and Rip demands the name of who hired him—or he'll start cutting things off. Wade gives up Roarke (easily), but he isn't going anywhere. Rip's going to kill him, but first, he's taking something back: the brand. He doesn't deserve to wear it. And this is when Walker must prove himself: cut the brand out of Wade's chest, or he's done.
Walker may not know Wade, but he knows if he's wearing the brand, he must be a bad man—and if the others want it back, he must be worse. And he goes through with cutting it off him. (Ouch!) And after that, they hang him. They got their revenge, but Rip warns them, now they have to pay the price for it.
Lloyd and Walker take the Morrows' bodies out to a county where there's no sheriff and no people to hold them accountable in court. And just like people in three states do, they toss Wade and Clint off the cliff.
Then comes time for the cost of what they did: the brand, for Ryan (Ian Bohen), Colby, and Teeter.
If that's what happened in the penultimate episode, what's coming in the Season 3 finale?!
Yellowstone, Sundays, 9/8c, Paramount Network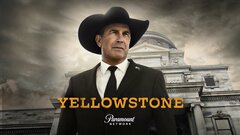 Powered by