Easter Egg Hunt: Revealing '11.22.63''s Many Stephen King Homages (VIDEO)
He's not just the master of horror. Stephen King is also the master of Easter eggs. Much to the delight of his die-hard fans, the acclaimed writer loves to link his bestsellers with characters, locales, plot events and other cross references, in order to create one giant King-dom. And he's gone eggs-tra wild with the screen version of his time-travel hit 11.22.63!
Available on Blu-ray, DVD and Digital HD on August 9, the nine-hour miniseries stars James Franco as Jake Epping, a modern-day English teacher who goes back to the early 1960s to stop the murder of JFK. The Warner Bros. Home Entertainment release includes an all-new featurette with the mini's executive producer J.J. Abrams, who reveals the secret connections between 11.22.63 and such other King classics as Misery, Christine, The Dead Zone, The Green Mile, Children of the Corn and The Shining.
Here's an exclusive clip of Abrams spilling the beans: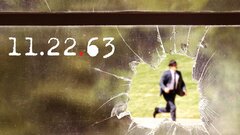 Powered by