'Young & Hungry' Stars Get Their Word Play On (VIDEO)
The cast of Freeform's Young & Hungry got creative when they stopped by OTF, Freeform's series of Youtube videos featuring stars of their original series, to play "Word Play", and they had some interesting word associations.
RELATED: Ashley Tisdale Returns to Young & Hungry as Sofia's New Boss (VIDEO)
The cast must've been pretty hungry when they came up with "burrito" and "sardine" when asked to think of two foods on the fly—and when they created an interesting tale about a Blasian chef named Bernie Sanders worthy of being a Young & Hungry storyline itself.
RELATED: Gregg Sulkin Guest Stars on Young & Hungry as Gabi and Sofia's British Neighbor (VIDEO)
Though their story got pretty crazy, they got one thing right—who wouldn't eat pizza 99 times a day if they could? Watch Emily Osment, Jonathan Sadowski, Rex Lee and Kym Whitley rack their brains below.
Watch more Freeform OTF on Freeform's Youtube Channel.
Young & Hungry, Wednesdays, 8/7c, Freeform.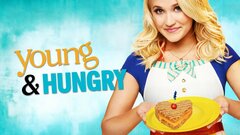 Powered by