'Fargo' Executive Producer Warren Littlefield on Season 2's Emmy Chances
When Fargo premiered its second season in October, 2015, it established itself as an immediate frontrunner for Emmy consideration in the Limited Series categories. Nine months later, Fargo maintained enough of that early momentum to land more than a few high-profile nominations including Outstanding Limited Series, Outstanding Leading Actress (Kirsten Dunst), Outstanding Supporting Actress (Jean Smart) and two for Outstanding Supporting Actor (Jesse Plemons and Bokeem Woodbine).
We spoke to executive producer Warren Littlefield before the nominations were announced to get his take on Fargo's Emmy chances, the top Limited Series competition and the show's future going into Season 3.
What are your thoughts on the Emmy contenders this year?
It's a crazy competitive world out there. Is there a category in the Emmys that doesn't look intimidating and remarkable? There are no barriers to who jumps in and does great television. We've certainly benefited from the types of roles and the experience that we offer doing Fargo.
Just thinking about the Emmys, we've gone from kind of a Golden Age of Television to a Platinum one. The quality of what viewers are offered on television across 60+ platforms is amazing. I think that to get nominated for an Emmy or win an Emmy in this environment is truly incredible. And that bar is just going to continue to go up, because we're working in a medium that everyone wants to work in right now. The types of roles, the quality of those roles, the depth of character that gets explored. I've done this for a long time, and I can't remember an era that ever flourished as much as it does right now. So it's exciting to work in it, and we're a magnet for talent, and we love that.
RELATED: Matt Roush's Emmys 2016 Critic's Notebook
Who is the biggest competition for Fargo at this year's awards?
Well, I certainly think The People V. O.J. Simpson is going to get a lot of attention. It did very well, and it was a very strong cast. I think that Sarah Paulson will be a strong contender. We'd like to think that Kirsten Dunst gave an amazing, amazing performance, but we respect the competition. And Sterling K. Brown, who played Darden, he was amazing, as was the actor who played Johnnie Cochran. They have a lot of strong casting in O.J.
With The People v. O.J. Simpson: American Crime Story as such a major competitor for Fargo, is there any rivalry between the teams that produce limited series on FX?
I think we're actually really proud of who we're in business with, that they have such good product. It is not uncommon that we'll get on a conference call and go, "Okay, we're that other Emmy winning show." So there's pride, and there's a strut when you get into the FX hallway. I think we all have been known to look at the poster placement on the walls at FX and be like, "Yeah, this is where we are, front and center." So it's fun competition. It's great.
While casting the ensemble for Season 2, did you classify roles as leading and supporting?
It all starts with Noah Hawley and the writing staff's storytelling. He really doesn't go out and write for an actor. He tries to tell a really interesting story, and then the casting process takes over. A lot of people want to sign on. We don't ask them for multiple seasons, we just say, "Come spend a winter with us up in Canada." It really comes from a place of what's good for the role. We end up getting this amazing ensemble and some roles are larger than others, and it's blurry, but it all is in service of the storytelling.
Let's discuss Fargo's supporting actor contenders. What made Jesse Plemons right for the role of Ed Blumquist?
We've been big fans of his work from Friday Night Lights and Breaking Bad, and the role we were looking to cast was a Midwestern everyman who seemed to be lucky in that he traded up in love, but this is a story where he's going to have to pay for that. And Jesse just embodied all those qualities, so we were excited to have Jesse in that role.
RELATED: Emmys 2016: The Year of the Supporting Actor
Bokeem Woodbine as Mike Milligan?
With Bokeem, we knew his work, but Bokeem just came into the audition and somehow owned and channeled the role. I guess you would say it was undeniable in the audition, and everyone we shared that audition with felt the same way. He was just born to play that role.
If the Supporting Actor category was narrowed down to just Fargo nominees, do you think one would have the edge over another?
Oh my God. Pick your favorite children? First of all, I love the idea of an all-Fargo Emmy category. That's pretty wonderful. That's delicious. No, I wouldn't know how to pick that. The one thing I can say is, they're all deserving.
Ewan McGregor has been cast in two roles for Season 3, and Carrie Coon of The Leftovers has been cast as the female lead. Can we expect any other big names?
We're engaged with a couple of actors right now, but we don't have any deals closed. We could go big. I think also, just the roles are delicious, and wonderful actors gravitate to them, and I think that's what you can expect. We'll continue the Fargo tradition. We're incredibly proud of it. We want audiences to look at our cast and go, "Wow, oh, Jean Smart. I haven't seen her doing that kind of role. She's amazing."
We love those kind of Fargo surprises. Brad Garrett as Joe Bulo. Amazing. Just a dark killer guy. We love providing fresh faces the audience has never seen before, a la Allison Tolman, Rachel Keller, and we love surprising audiences with people like Ted Danson who they know and love and recognize, but haven't seen in this role before. I think that's all part of what Fargo does.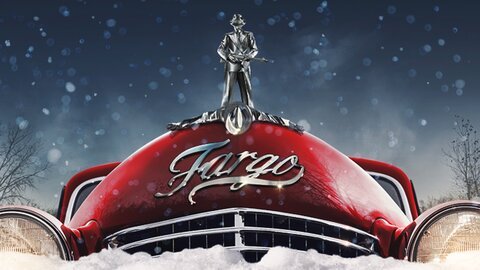 Fargo
where to stream
Powered by