Jenny McCarthy Wahlberg Teases the Most Suspenseful 'Masked Singer' Ending Yet
"Take it off! Take it off!" That deafening audience roar coming from Stage 46 at Hollywood's Television City can mean only one thing: The Masked Singer's final three contestants will soon doff their disguises as one is crowned the winner.
"It's the most suspenseful [finale] yet!" says judge Jenny McCarthy Wahlberg of the reality hit's Season 3 wrap-up airing May 20.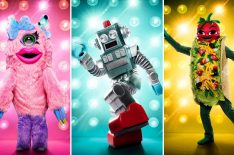 See Also
Find out who has been unmasked this season and sound off with your best predictions for those left.
TV Guide Magazine was the only press invited to watch it all unfold. The vocal competition pits celebrities — made anonymous by extravagant costumes such as Frog and Turtle — against one another; their identities remain hidden until they are voted off.
This episode taped in February, before the coronavirus shut down production. "If there was a show right now that America needs, it's this one," Wahlberg says. "The whole family can watch."
Judges and audience members alike got emotional during the six-hour taping, which includes Singer's first duet. Nicole Scherzinger "has cried more this season than [on] most soap operas," Wahlberg jokes of her fellow judge. (Ken Jeong and Robin Thicke round out the panel.) She adds: "I'm the tough tomboy who found myself with watery eyes and goose bumps."
The Masked Singer, Season 3 Finale, Wednesday, May 20, 8/7c, Fox