What's Worth Watching: 'Rizzoli & Isles', 'UnReal', 'The Late Show with Stephen Colbert' and more for Monday, July 25
Rizzoli & Isles (9/8c, TNT): Angie Harmon directs the milestone 100th episode of the long-running procedural, which is nearing the end of its seven-season run. She does pretty heavy lifting as well as Jane, who goes undercover (with fake tattoos to illustrate her street cred) to get close to a suspect in a double homicide. It's a fairly standard case, except for the always welcome presence of guest star Sharon Gless, who steals her scenes as a fellow inmate who hopes she's made a new friend in Rizzoli.
UnReal (10/9c, Lifetime): The real world intruded on the faux reality of the Everlasting set last week when a joyride by "suitor" Darius (B.J. Britt) resulted in ripped-from-the-headlines tragedy. Thanks to the machinations of Rachel (Shiri Appleby) and Coleman (Michael Rady), who alerted the cops, a taut standoff led to a shooting that left Darius's BFF Romeo (Gentry White) injured. Now for the fallout, which appears to have once again broken the psychologically fragile Rachel, leaving Quinn (Emmy-nominated Constance Zimmer) picking up the pieces back in the world of fake dating. How this fictional show remains on the air after calamities like this and last season's suicide is just one of many details a fan probably shouldn't sweat.
The Late Show With Stephen Colbert (11:35/10:35c): No late-night show took better advantage of the antics of the GOP convention than Colbert, going live for four consecutive nights, briefly resurrecting his Colbert Report personal and enjoying an assist by Jon Stewart, all a reminder of how much the culture of political commentary lost when these personalities left Comedy Central a year ago. Now training its focus on the Democrats in Philadelphia (through Thursday), Colbert's first scheduled guests include Allison Janney and former Rep. Anthony Weiner—with the likes of John Oliver, historian Doris Kearns Goodwin, and Broad City's Abbi Jacobson and Ilana Glazer scheduled for later in the week. If Colbert can produce even one segment nearly as memorable as Laura Benanti's impersonation of a plagiarizing Melania Trump, we could be in for another terrific week of satire.
Inside Monday TV: In the actual world of fake dating, ABC's The Bachelorette (8/7c) jets Jojo and three of her supposed soulmates to Thailand. … Lena (Sherri Saum) turns 40 on Freeform's The Fosters (8/7c), which should be the occasion for a joyous '70s-themed party—until her mom (Lorraine Toussaint) shows up with unhappy news that could be a buzzkill. … In advance of a new version of MADtv premiering on Tuesday, The CW repeats the MADtv 20th Anniversary Reunion special (8/7c), bringing back many of its breakout stars from its years on Fox. … Drew Barrymore and John Hodgman guest on Bravo's rollicking Odd Mom Out (10/9) as a married-with-kids couple who seem like ideal new friends for Jill (Jill Kargman) and Andy (Andy Buckley), and best of all, they live in the same building. If you suspect it seems too good to be true, you're probably right.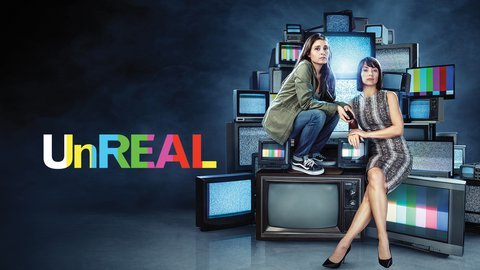 UnREAL
where to stream
Powered by