Disney's 'Descendants: Wicked World' Gets a Second Season
Wonder what the kids of your favorite Disney villains are up to? You'll be able to catch up with them soon enough, as Disney Channel revealed today that Mal, Evie, Carlos, Jay and all your favorite Descendants: Wicked World characters are returning for a second season—and this time Captain Hook's daughter CJ (Myrna Velasco) is along for the ride.
RELATED: Descendants 2 Greenlit by Disney Channel
Descendants: Wicked World is an animated short-form series following the characters from Disney Channel's successful Descendants movie, which was the most watched cable television movie of 2015. A sequel to the movie is in the works, but until then the first season's half-hour finale will air Friday, July 15 with six back-to-back episodes.
RELATED: Disney Channel Preps Sequel to Hit Movie Descendants
Expect evil tricks from new offspring, including Zevon (Bradley Steven Perry), the son of The Emperor's New Groove's long-lashed villain Yzma, and Freddie (Lauryn McClain), the daughter of The Princess and the Frog's Dr. Facilier, when the second season comes out this fall.
Descendants: Wicked World, Season Finale, Friday, July 15, 8/9c, Disney Channel.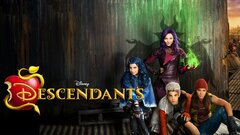 Powered by