'Difficult People's Julie Klausner on the Pop Culture Targets in Season 2
Celebrities, gird your egos.
No movie, meme, literati or Twitterati is above a ribbing on Difficult People, Hulu's showbiz comedy about two wisecracking thirtysomethings, blogger Julie (creator Julie Klausner) and waiter Billy (Billy Eichner), who are desperately seeking stardom. Here, Klausner gives us a sneak peek at what gets roasted this season.
RELATED: July 2016 Streaming: Difficult People, Vice Principals And Others Coming and Going
Pretty Woman
In a parody of the Julia Roberts film, Billy gets a sugar daddy. "We had to do the famous bubble bath scene with that stupid Walkman," Klausner says. "We were in a house with a cat and said to Billy, who's allergic, 'Will you take all your clothes off, get in this tub where this cat has been hanging out all day and dunk your head underwater?' He said, 'Let's do it.'"
The Ice Bucket Challange
A charity meme equals fame, right? In one episode, the friends brainstorm versions of the Ice Bucket Challenge that might get someone like Tonight Show host Jimmy Fallon (above) to participate. (One idea they come up with: "Slam your bare breasts in a refrigerator door!") "We had so much fun thinking them up," Klausner says. "There was a lot we didn't use."
Very Important TV
One storyline sees Julie jealous of a former blogger who now writes for HORSE, a comedy about a single mom who hawks heroin so her trans child can ride horses. It's very important work, says everyone. "There are so many real shows that inspired HORSE," Klausner says. "TV comedies are basically dramas. I like them, but I take pride in Difficult People being a hard comedy."
Prohibition-Era Hipsters
Billy also tries dating a hipster from Brooklyn's "old-timey" scene this season. You know: guys who dress like newsies and shave like circus strongmen. "People only bother me if I see myself in them," Klausner admits. "That said, will I go out in the summertime wearing a girdle? I can't abide by that, but boy is it great to make fun of."
Magic Lighting
When Julie's mom (Andrea Martin) makes a video will (directed by Tina Fey, who plays herself), she gets a Fonda 5000, "the camera used exclusively by… Grace and Frankie." A product of Sony and Chevy, it has truck lights to make older women look younger. Klausner muses, "The funniest part of that show was how well Jane Fonda was lit. I was obsessed!"
Difficult People, Season Premiere, Tuesday, July 12, Hulu.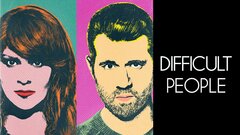 Powered by