Who's Right About the Callings on 'Manifest' — Adrian or Ben? (RECAP)
[Warning: The below contains MAJOR spoilers for Season 2, Episode 10 of Manifest, "Course Deviation."]
The Stone family hasn't had it easy, but they must face losing one of their own in Monday's episode of Manifest.
Grace's (Athena Karkanis) water breaks weeks early while she and Ben (Josh Dallas) are investigating a Calling, and he's forced to make a heartbreaking decision in the hospital. Plus, that Calling causes their paths to cross with Adrian, who has a different perspective on what they've seemingly been called upon to do.
Meanwhile, Michaela (Melissa Roxburgh) finally finds out what Jared's (J.R. Ramirez) been doing, only to learn that Zeke (Matt Long) has ended up in the Xers' clutches.
Ben's Choice
After Grace has a Calling of someone asking for help, near a river and a bridge, she and Ben come across Adrian, who heard and saw the same thing. Unbeknownst to Ben, Grace slips and falls chasing after Adrian, which is likely what causes her water to break. (They attribute it to the car accident when the doctor at the hospital suggests her internal bleeding is due to a past trauma.)
But with Grace's blood pressure dropping, the only solution is to deliver the baby — and none of the specialists who can successfully perform the surgery are anywhere to be found. Grace insists that they make sure they put the baby first. "It's our job as parents to take care of our kids no matter what," she tells Ben and makes him promise to save their third child. He does, until he sees her with their other children. Then he tells the doctor to do whatever he can to save his wife.
He's doing it for Cal and Olive, he explains to an unconscious Grace. They can't lose her, and neither can he. He just hopes their baby can fight.
Meanwhile, Adrian has another Calling just before he hears a splash in the river — and someone yelling for help. He fell out of his kayak, and after he brings him to the hospital, a nurse recognizes the man. He's the specialist they need to save Grace and the baby. He's there just in time to successfully deliver Eden, and both mother and daughter are going to live.
Is Michaela's Faith Misguided?
Even while in that holding cell, Michaela still trusts Jared, and it turns out she's right to do so. He keeps her union rep from taking her somewhere to be killed and then has her meet him where he proposed before that fated flight.
He walked into the bar when he was at his lowest, he admits, and then he realized he was surrounded by Xers. "You joined them because of me," she says, and she's right, but not in the way she thinks.
"I did," he confirms, "because the best way to destroy a hate group is to blow it up from the inside." He's been undercover, and he needed Michaela to believe so the Xers would.
Jared and Captain Bowers quickly catch Michaela up. Simon is at the top of the Xers' food chain, but he keeps his nose clean by having others do his dirty work. He's convinced his followers that the 828ers are terrorists controlled by voices in their heads, and he plans to leak the information he got from Ben's walls.
Then Billy shows Jared that they have Zeke in the back room of the bar; they want to send Michaela a message. Jared manages to move Billy back out into the main room of the bar where the bug is to alert Michaela and Bowers, and they listen as he convinces Billy to bring Simon in.
Simon isn't as pleased as Jared told Billy he'd be, but they do record Simon and his wife planning to kill Zeke and frame Michaela. As soon as the couple steps foot outside, the police arrest them. Inside, Jared convinces Billy that he wants to shoot Zeke himself, and once he has the gun, he turns on the Xers just before Michaela bursts in and the police make the necessary arrests.
Are the Callings Good or Evil?
That depends on who you ask.
Adrian insists the Calling was responsible for the fire; he shared all the details of it with Isaiah, who then made it come true. "Have you ever considered the possibility they create more bad than good?" he asks Ben and Grace.
But after the Calling leads to the specialist who saves Grace and Eden, Ben can't see them as anything but good. Adrian disagrees, revealing Grace slipped and that put his family in danger. "Why would the Callings do that?" Ben asks. "Set up dangers just to trick us into thinking we're saving the world?"
Adrian suggests the Callings are manipulating them, getting them to trust so they obey and cites Matthew 24:24: "false prophets will arise from the dead to perform signs." "We are returned from the dead to be agents of the apocalypse," he insists.
Could he be right? After all, take the final scenes of the episode. Early on, Olive finds Cal's first drawing of a Calling, of the family with a dark figure behind them. First he sees the figure growing bigger, then two more join it later on.
And at the end of the episode, three dark shadowy figures quite similar to that drawing surround Adrian in a dark alley. Then, those figures appear in Cal's room, but they disappear when he turns on the light. Creepy!
Who's right about the Callings? Could there be some truth in what both Ben and Adrian have to say about them?
Manifest, Mondays, 10/9c, NBC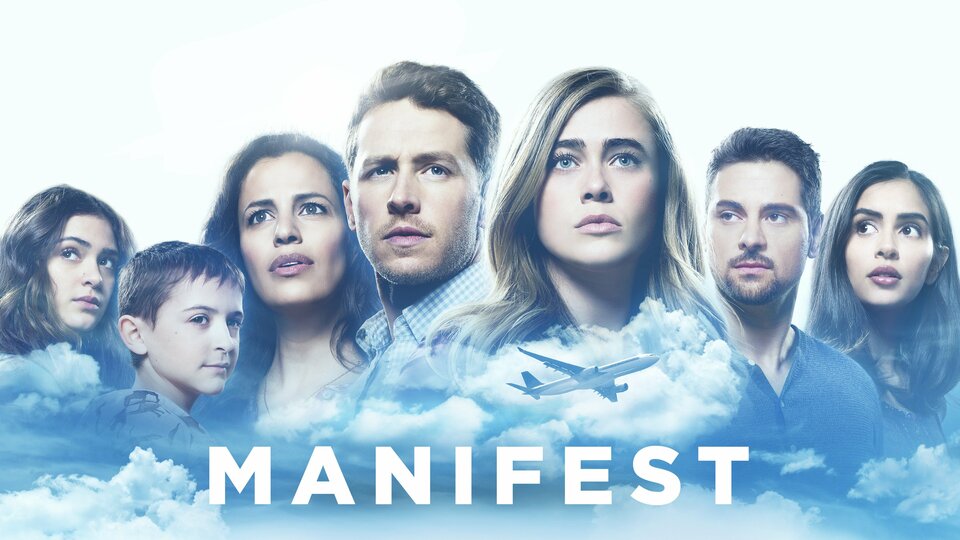 Powered by