Get Your First Look At 'Dark Matter's Latest Crewmember (VIDEO)
She certainly knows how to make an entrance.
In this clip from the season 2 premiere of Syfy's Dark Matter, Nyx (Game of Thrones' Melanie Liburd) meets the rest of the starship crew—and it doesn't look like she's there to make friends as she takes on both Two (Melissa O'Neil) and Three (Anthony Lemke), with Two putting up a fair fight.
But now that the Raza crew is split up, with the characters waking up as prisoners on the Hyperion-8 Maximum Security Galactic Detention Facility, following last season's mind-blowing traitor reveal, they need all the allies they can get—maybe even including Nyx.
RELATED: Syfy Sets Killjoys and Dark Matter Season 2 Premieres
Watch the exclusive clip below, and see if she becomes an ally or an enemy during Dark Matter's second season.
Dark Matter, Season 2 Premiere, Friday, July 1, 10/9c, Syfy.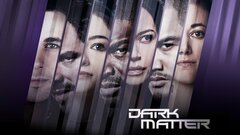 Powered by