Brett Gelman on Talking Race in His 'Dinner in America' Special
You may not know Brett Gelman's name, but you know his bearded face. In the last few years, you've likely seen him in shows like Go On, Married, or Another Period. He even popped up in the series finale of Mad Men. Most of the time, he's playing an off-kilter character who projects as smart but a little bit creepy, or as Another Period's Natasha Leggero told us, "He can play creepy murderer, but still kind of has sex appeal and also be sort of erudite. I don't know anyone else like that."
Gelman has also done three "dinner" specials for Adult Swim, each darker than the last. First, a dinner with fellow actors like Alison Pill and Lance Reddick turned into a kidnapping situation. Then a dinner with his "parents" (really character actors) led to a sick meta play about his childhood starring Tony Roberts and Patti LuPone. In the third special, Brett Gelman's Dinner With America (premiering Friday, July 1 at midnight), Gelman talks about race with distinguished actors Joe Morton, Loretta Devine, Shareeka Epps and Mack Wilds. But things quickly take a turn into something Gelman completely didn't intend.
RELATED: Another Period: Natasha Leggero and Riki Lindhome on Getting Down and Dirty With History
TV Insider spoke to Gelman about the special, which screened at the Ace Theater in Los Angeles the day before he spoke to us, how he wants to break away from being a "that guy," and how playing a clean-shaven, diminutive character in New York-area lottery ads helped his life and career.
Had the people who watched the special at the Ace Theater been fans of your previous specials?
I have no idea, but even if you've seen the other two, this one is still quite a mind fuck I would think. It's a mind fuck to me, and I made it. Like the mindf–k to Jason Woliner, and he made it.
How do you guys come up with these really dark specials?
The first one started out with a more like meta concept of me performing sketch characters at a dinner table for five actors. The one real huge shifting note we've gotten from the network in all of this was, "Lose that characters element." Which is actually a great note because it made us make it more into a linear script and something that people would be able to emotionally engage in as well in the tension. Really create much realer tension with stakes. I feel like that first one was more coming out of mine and Jason's competitive nature and resentment that we weren't more successful than we are, [Laughs] wanting to take that out on people who actually had respect. The second one I just think was a hyperbolization of family dysfunction. Which everybody has. Not that those issues in that were issues that we have with our families thank God.
This [third special] was really [about] caring about this issue. This horrible reality in our world. Really putting the mirror up to ourselves and saying, "Well how do we as liberals contribute to this in a potentially negative way? How are we a part of this? We are a part of this system that can not be denied."
You are basically saying during the special, "I'm on your side" but doing everything that you say and do it makes you seem like you're not.
It's the guy who wants to prove that he's not racist and in so doing proves that he is racist. It's a guy who puts his own self interest ahead of the interest of his fellow human beings. He ignores the real problem, but is willing to engage in discussion until the cows come home. Not actual discussion, not discussion where you're ready for whatever response you're going to get to what you say. In the end [he's] turning your back to it all and pretending it's not there. There's no closure to it at all, there's no answer. It's a big question mark and Jason and I like to do that.
What's your pitch to Loretta, Shareeka, Joe, and Mac? Are these the four that you wanted to begin with, or did you ask others and they turned you down?
No, no. I'm a huge fan of all four of these actors. Huge fan of every single actor that we've ever cast in the specials. [In our pitch], we basically say, "We don't think that this issue is funny." With this one in particular, which I think that this is different than the other two. In the other two as f–ked up as things get there is still a level of comedy there. There are a lot of parts of this new one that are just not funny. That was a big thing that we wanted to experiment. How do we keep going back and forth from the comedy to tragedy?
Anyway, we were just like, "We don't think that this is funny. There's a lot of parts of this are not funny at all, that are tragic. We think we are using the comedy of this to highlight the tragedy and draw people in to really experiencing the weight of this problem. It's a problem that we care a lot about. Everything that happens will be scripted. There is no prank element to this at all. Do not worry." That's something that we've said to all the actors because the intense nature of these scripts it would be … You hear it's comedy, you could think that you might be in store for something that's not necessarily on the page.
What did Joe think of the monologue he has in the middle of the special?
Joe told us when we were on the phone with him that it reminded him of a Richard Pryor special that he saw where Richard Pryor took out a machine gun and said he was going to kill all the white people in the audience. This is from the old Richard Pryor show. Which, of course, Jason and I don't mind being compared to Richard Pryor. [Laughs] Our egos certainly don't mind that.
I was really surprised that the actors didn't have more questions or more potential issues with the fact that two white guys had written this. Were we steering them in the right direction. It's very touching to Jason and I that they trusted us. Mack, he was the one person who … These are all professional actors in many way … They're showing up to do a job. They're like, "This is the script and this is the job." Mack was the one out of the four of them who was a fan of the other two specials that we did. He felt very very good about what we were saying.
RELATED: Robot Chicken Takes on The Walking Dead, Samurai Jack Returns and Other Adult Swim News
I like the callback with Lance Reddick, who was in the first special, hosting the fake Sidney Poitier tribute.
That meant a lot. That means so much that Lance did it. Because after the first one Lance became a friend. I was no longer just a fan of his. I asked him for that favor. I was like, "Can you come in for me and Jason and just do a cameo in this? It's on race." Over the phone he was like, "Oooh." I was like, "What, what what?" He was like, "Well, I got to be honest, Brett, I want to read the script because I've got a lot of comedians sometimes telling me something is on race and it's racist." I was like, "Well that is what our special is about Lance." It meant a lot that he did it because then that means that he agreed with [the script]. Because that, of course, is my biggest fear that people think that I'm actually making fun of racism. I'm not. We're not.
Do you like popping up in shows like Another Period and Married as the "weird bearded guy"?
Well, I'm incredibly grateful. I mean, the fact that I get to do that and a lot of the time it being with my friends and people that I really admire is … Hey, I'm in the minority. I'm incredibly lucky to be working consistently in this business is not the norm. I feel really really fortunate not only that I get to work but that I have so many friends who look out for me and value what I do.
I'm getting to the point now where I'm really ready for the big thing. Not be quite so much a utility player necessarily. Start presenting either as an actor—not that I have to write it because I love taking on roles just as much as I love writing. I love taking on roles that other people have written for me just as much as I take on writing—just not as much of a, "Oh, that guy." I want people to start saying, "Oh, Brett Gelman's new piece is coming out. That's a Brett Gelman movie. That's a a Brett Gelman show."
RELATED: Rob Corddry Explains Why Adult Swim's Childrens Hospital is Ending, Plus Why The Rock Didn't Appear
In Married your character was on the weird side but you were also very dramatic and very emotional. Do you want people to see more of that kind of work?
Yeah. I'm so grateful to Andrew Gerland, who created Married. Then also to Judd [Apatow] and Paul [Rust] for writing Doctor Greg in Love. It's all a matter of tone. What's the tone of the piece that you're in. You're not going to play Love like you're going to play Another Period. I always at least try to come from some sort of human place no matter how ridiculous the character is. That's really awesome. That is more the work that I'm leaning towards doing. I want to do it all.
I love absurdity too. This, I feel like in this special it kind of merges those two. We really … Jason and I really set out with my performance for it to be this very real thing. At times for it to be a buffoon. As to, I'm going to be a bait and switch for the audience to think that I'm harmless and dumb when really I'm a f–king villain. There are a lot of points in the special where I think that things get really heavy. That was as much of a thrill to play as the overt comedy.
Thoughts about doing any more?
Yeah. I mean, Jason and I … There are a lot of issues. I think we'll probably for now be taking on some of these heavy issues with them if we do do more. Adult Swim is certainly game. I mean, they're endlessly supportive of us. Which is amazing. It's crazy.
When you look back, do you consider your breakthrough to be those New York Lottery commercial, where you played "A Little Bit of Luck?" Because you were doing a series of commercials people trying to find out who you were.
[Laughs] Well, that got me off of sleeping off on people's couches. Yeah. I'd say financially it was. I'd never gotten a job that paid me. Not that I was even paid that much for the amount that they used my likeness. Probably it wasn't that much. It's not nearly as much as anyone might think that I was paid.
I feel like it wasn't really a breakthrough. That was a job. I think the thing that really started setting my career on the course that it's on is when I did "1000 Cats" on Funny or Die Presents on HBO. That's what I feel like kind of got me a little bit more into the system. Adam [McKay] and Will [Ferrell] put me in The Other Guys. Because of The Other Guys I was hired on Go On. Then, of course, Jason hiring me to Eagleheart. All of those that it kind of created this amazing snowball effect with all of that.
I look upon "A Little Bit of Luck" as a very bizarre, happy, surreal memory. However, I did meet my wife, who is a filmmaker but at the time was doing wardrobe for "A Little Bit of Luck." That's where I pursued her. I would never regret anything about those commercials. I mean, it was bizarre, man. It was bizarre; I also wasn't working a lot around those commercials. I'd be on the subway and see my face. I'd be like, "Oh my God. This is really …" I was alone at the time. I was so depressed. It was just like … It was crazy to see my face so Jewish everywhere like that.
Brett Gelman's Dinner in America, Friday, July 1, Midnight/11c, Adult Swim.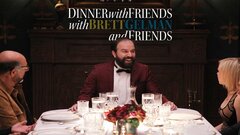 Powered by