Michonne, Daryl, Carol & Alpha Are 'The Walking Dead' in Season 10B (PHOTOS)
The Walking Dead returns for the rest of its 10th season in less than a month, and everyone's ready for the Whisperer War — on both sides.
AMC released key art for Season 10B showcasing Danai Gurira as Michonne, Norman Reedus as Daryl, Melissa McBride as Carol, and Samantha Morton as Alpha. The first three are armed and ready to fight, while Alpha is screaming. Each features the same tagline: "We are the Walking Dead." Check out the key art below.
See Also
Who will fall victim to the Whisperers' trap? Let's speculate.
The AMC drama will pick up where it left off, with the group of survivors trapped because of Alpha — some in that cave filled with walkers, others "in a spiral of suspicion and grief." And what will it mean for the Whisperers to have Negan (Jeffrey Dean Morgan) with them?
Meanwhile, Eugene (Josh McDermitt) still has hope and believes the mysterious voice he spoke with on the radio could lead to their world growing again.
However, the Whisperer War is upon them, and the collective communities must come together and be willing to sacrifice to stop their enemy.
The Walking Dead, Season 10B Premiere, Sunday, February 23, 9/8c, AMC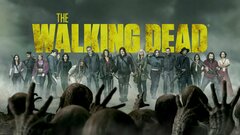 Powered by