'Law & Order: SVU's Jamie Gray Hyder on What Kat Can Learn from Olivia
The Law & Order: SVU squad has been through a few changes already in Season 21 — and we're only about halfway through. Carisi (Peter Scanavino) moved to the DA's office, Olivia (Mariska Hargitay) is now captain (!), and the squad has a new member in Jamie Gray Hyder's Officer Katriona "Kat" Azar Tamin.
And in the midst of all that change, could fans perhaps see some returning characters? "The fans who've been in with us on the show for so long are really going to be excited to see some familiar faces," Hyder teased when TV Insider caught up with her at the recent NBC press junket in New York.
See Also
Mariska Hargitay and the rest of the 'SVU' team reveal what's new in the historic season — from job changes to new hires.
Here, Hyder discusses joining SVU and the squad, a big Kat episode, and more.
How is Kat fitting in moving forward?
Jamie Gray Hyder: Kat's got great intentions and she's trying to find her way in the squad. For her, it's about trying to mesh with a new group of people and learn her way around because they do things a little bit differently. She's making some mistakes, but she's learning as she goes.
Speaking of, she rubbed Carisi the wrong way when Rollins had been kidnapped, but she's also in a sense, playing devil's advocate. Did the squad need that from her?
Absolutely. I know that personally it felt like something that was a bad thing to say, but professionally, it was worth it to explore that option.
What's the biggest challenge for her right now?
Learning how to be a part of a team. She's very independent and likes to take care of things on her own, but she has to work within a hierarchy in her new position, so that's something she's gotta get used to.
See Also
With a new full-time addition to the 'SVU' team, we are pouring one (or six) out for the series regulars that didn't stick around long.
Kat's in a really good position to learn from Olivia as her captain. What is she hoping to get from that experience?
She's going to learn from her how to take her tenacity and her drive and really point it in a very productive direction. Right now, she has a hard time keeping things under control when it comes to her emotions, much like, I believe, Olivia did when she first started out. I think Kat's similar to that, where she's going to have to learn how to temper her emotions a little bit in order to make sure she's acting in a professional manner.
We've also seen Fin take Kat under his wing a bit.
She grew up around people who are probably more like Fin than any of the other characters on the show. He gets her a little bit. He understands her attitude and her drive, where that comes from, so he's really good at speaking her language and getting her to understand how to translate into this new world she's in.
Kelli Giddish said there's an episode in the boxing world coming up and she praised your work in that episode.
Yes, I've got one of my big episodes coming up on February 6. I actually train a few times a week at a boxing gym with a trainer and I actually got to use those skills in the episode, and that was really, really exciting.
See Also
There's a greater chance of one of them returning soon.
[In that episode], my personal life in the boxing ring brings me into a case that's going on there, so my personal life and professional life really merge.
In her first episode, we saw her undercover. Will we see more of that?
I hope so. You should.
Law & Order: SVU, Thursdays, 10/9c, NBC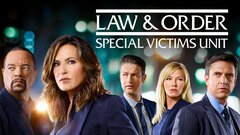 Powered by