What's Worth Watching: 'Serena', 'American Gothic', 'Big Brother' and more for Wednesday, June 22
Serena (8/7, Epix): One of the all-time tennis greats is profiled in an intimate documentary that follows Serena Williams in her relentless pursuit of Grand Slam titles as well as her more personal side in dealings with business partners, family members, friends and coaches.
Any Given Wednesday With Bill Simmons (10/9c, HBO): The controversial former ESPN personality gets free rein with a new half-hour talk show on the pay giant. His first guests: fellow Bostonian Ben Affleck and sports maverick Charles Barkley. Expect the outspoken to be spoken.
American Gothic (10/9c, CBS): Less a recommendation than a hedge against disappointment. There's only one element of this tepid 13-part murder mystery that lives up to the promise of the title: 9-year-old Jack Hawthorne (Gabriel Bateman), a future Lecter whose morbid ways are the most interesting aspect of an otherwise underpowered whodunit about a well-off Boston clan implicated in an unsolved serial-murder spree when new evidence emerges.
Inside Wednesday TV: PBS's The Great Polar Bear Feast (8/7c, check local listings at pbs.org) sounds like fun, but it's more about the struggles the Alaskan animals face during the Arctic summer, as the ice they depend on for hunting is disappearing thanks to climate change. … The human zoo of CBS's Big Brother returns with a two-hour opener (8/7c), introducing 12 houseguests embarking on a 99-day "social experiment." As always, there will be new twists in the game play.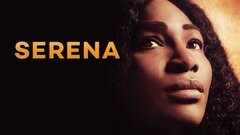 Serena
where to stream
Powered by