'Person of Interest' Creator Teases the 'Exciting,' 'Tragic' 100th Episode (VIDEO)
"We're really sorry."
Those are the ominous words Person of Interest creator Jonathan Nolan offers to fans before the CBS drama's pivotal 100th episode airs. The hour is not only an important milestone, but it comes as the show is in its final arc of the story. (Person of Interest's series finale airs Tuesday, June 21.)
In "The Day The World Went Away," Team Machine must protect Finch (Michael Emerson) when his cover gets blown. For a show that doesn't pull punches, the gorgeous installment brings the fight against Samaritan to the next level.
Related: Person of Interest Bosses on the Premiere's Format Twist, Machine Drama, and Fusco's Journey
"We are just as upset as our fans will be about the way this show plays out," Nolan says. "But this is what's so funny: you make these things, and there's such a beautiful feeling when a story piece falls into place just right. You see the evolution of some of these characters has always been heading in this direction. It's such an exciting moment for where our story goes. But also tragic."
Check out an exclusive clip from the 100th episode, as Finch learns his number has come up.
Person of Interest, Tuesdays, 10/9c, CBS.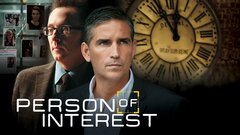 Powered by