'Steven Universe' Is Back—With A Plan (VIDEO)
The four-week Steven Universe event "In Too Deep" ends on Thursday, June 2, with Steven (voiced by Zach Callison) and the Crystal Gems trying to protect former antagonist Peridot (voiced by Shelby Rabara)— and Ruby and Sapphire (Charlyne Yi and Erica Luttrell, respectively) have a plan!
RELATED: Steven Universe Is Back! Rebecca Sugar Helps Recap The Show So Far
In this sneak peek at next week's finale, Steven promises to protect Peridot, in hiding after calling Yellow Diamond a "clod". With Peridot in peril, it's time for the Crystal Gems to get down to business, which means it's time for Garnet (voiced by Estelle), a fusion of Ruby and Sapphire, to split into her two halves. Check out the Crystal Gems in action in this exclusive clip.
Steven Universe, Season Finale, Thursday, June 2, 7/6c, Cartoon Network.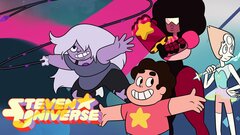 Powered by