'Shark Tank' Season Finale: An Entrepreneur Shocks the Sharks (VIDEO)
Everyone has bad habits they want to stop, whether it's biting your nails, obsessively scratching your ear or eating too many M&Ms. One of the ways people get themselves to stop is by inflicting a small amount of pain, like snapping a rubber band on their wrist. That's the idea behind Pavlok, which is one of the new products being presented to the sharks on Friday night's season finale of Shark Tank.
RELATED: Shark Tank Knits Together Some Bearded Hat Fun (VIDEO)
Pavlok (the name being a play on "Pavlov") is a wearable device that lets you deliver yourself a shock via a smartphone app whenever you do that behavior you want to stop doing. The idea, of course, is aversion therapy, associating the behavior with the shock.
The shock can get pretty rough, as the entrepreneur demonstrates in our exclusive scene. The sharks, especially Mark Cuban, though, are a bit skeptical that the device will do what its inventor claims it will.
Shark Tank, Season Finale, Friday, May 20, 9/8c, ABC.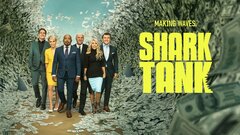 Powered by