'The 100' Season Finale: Eliza Taylor Previews Lexa's 'Return'
She's been hunted, haunted and had her heart broken by a stray bullet. Now, Clarke Griffin is leading the charge to save what's left of mankind with some help from her fellow juvies and a chip that could change her fate forever. It's all in a day's work for Eliza Taylor, who took some time to fill us in on filming Thursday's season finale and her #Clexa reunion in the City of Light.
What did you think when you started getting deeper into the whole artificial intelligence storyline?
I was very confused! (Laughs) Obviously, as Clarke I haven't been experiencing Alie (Erica Cerra) as much as everyone else has on the show. So it was a big learning curve.
RELATED: The 100 Hits a Roadblock (VIDEO)
I love that the last few episodes have gotten the band back together. All of the juvies…
I know! It was so lovely, too. I think it was Episode 12 or 13 where we were all in the Rover together and on our way, on a mission. It was like Season 1 again. It was just so nice to meet back with those guys and interacting the way that we used to. I think that's really nice for fans as well to see that.
At one point, there was even hugging!
There should be more hugging. (Laughs) I watched that and was like, "What is going on? We do not do this!"
Well you all have been through so much.
We have, you know? This group, we're the only people that trust each other on this show and it is very important to establish that.
Now, in the finale, you finally got out of the woods and shot in downtown Vancouver for the City of Light.
Oh my goodness. I never thought I'd see the day. It was crazy and was really fun actually because shooting on the streets of Vancouver, it didn't take long for someone to be like, "Hey The 100 is shooting right now." Before we knew it ,we had 20 or 30 fans with signs and pictures for us to sign, what have you. I really haven't experienced that in my career yet because we're always out in the forest. I was like, "Oh wow, this is a real show. People like us!"
It's not just people at Comic-Con.
Exactly. It was pretty cool.
It's not even just a small bit that you guys filmed there. You had huge sequences to get through.
Lots of stunts, lots of very technical stuff. It was intense and all in the rain.
Oh, of course.
(Laughs) Of course! But it was so great and now I have newfound respect for the shows like Arrow and The Flash who shoot downtown all the time. They must get crazy amounts of fans all the time.
Alycia Debnam-Carey's appearance in the finale was revealed months ago, so how was the crowd when she showed up to shoot Lexa's stuff?
They were all screaming for her. They were losing their minds about Alycia. I think it was great. Obviously, we didn't want to spoil her coming back but in another way, it was so cool for these fans to kind of take photos and see us embracing and being reconnected. I'm not too upset about that.
RELATED: The 100 Boss Addresses the Lexa Controversy at WonderCon
It seems like the finale is also positioning Clarke and Bellamy (Bob Morley) to maybe get on the same page for the good of the group.
And that's also a lovely callback and something that I was really happy about. They finally make peace and want the same thing again. I mean, that's such an important relationship and not the "Bellarke" sense in any way, but just for the greater group.
What have they told you as far as what you should expect for the next season?
Honestly, they don't tell us anything. I wish that I knew. I mean, I've got my ideas about what might be to come, but they could be completely wrong. Telling you those would mean me spoiling the finale.
Did you at least ask them why were you're wearing Clarke's first-season costume when she enters the City of Light?
I did! I thought it was kind of a cool spin. It was the first season costume, but it was blue shirt as opposed to gray. Jason [Rothenberg, EP] was like, "Well in the City of Light, you see yourself as the way you would have liked to have been, the way that you think you look to other people." I kind of like that, especially after everything Clarke's been through. Even for me as the actor, I identify with Clarke the most in that wardrobe. It was nice to put it back on A) it's just such a nice callback and B) because it still fit after three years and I'm really happy about that! (Laughs)
The 100, Thursdays, 9/8c, The CW.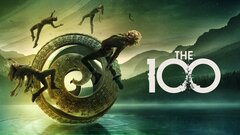 The 100
where to stream
Powered by