Simon Cowell Is Back! 'America's Got Talent's Newest Judge is 'Hysterical'
Simon Cowell is late. It's an unseasonably warm Sunday in March and, outside the Pasadena Civic Auditorium, hundreds of America's Got Talent fans have been waiting for hours to catch a glimpse of the show's newest judge. Members of a marching band put down their instruments and sit in the shade as an hour passes beyond the scheduled 2 pm arrival time, while the folks lining the red carpet leading into the theater use the American flags distributed by members of the production team to shield their faces from the sun.
"We're usually waiting two hours for him. He plays the boss card," says judge and supermodel Heidi Klum, referring to Cowell's other role as co-creator and executive producer of the Got Talent worldwide franchise. "We call him 'boss man' around here. Like, 'Boss man has arrived!'"
RELATED: Simon Cowell, Paula Abdul, Randy Jackson and More Reflect on American Idol's 15 Season Run (VIDEO)
On this particular day, boss man has arrived in style, driving a shiny red convertible. He stops to pick up Klum and the other members of the panel, comedian Howie Mandel and former Spice Girl Mel B. The marching band leads the quartet to the foot of the red carpet with a rousing rendition of Miley Cyrus's "Party in the U.S.A." The judges make their way to the theater's entrance, stopping to sign the occasional autograph or snap a quick selfie with screaming onlookers. Host Nick Cannon sticks his head out of a second-story window to coax them into the building. "Hurry up!" he screams. "We've got a show to do!"
If there's anyone who knows how to put on a show, it's Cowell. The 56-year-old Brit burst onto the American pop culture landscape in 2002 as an acerbic record executive judging wannabe superstars on Fox's American Idol. Cowell's star rose quicker than most contestants', and he soon dominated the headlines thanks to his honest, blunt and sometimes downright rude comments. In 2010, Cowell left American Idol to launch a U.S. version of his singing competition series The X Factor, which was already a smash in the U.K. But the success did not translate across the pond, and the show spent three seasons struggling to find an audience before Fox pulled the plug. Now, after a nearly three-year absence from American airwaves, Cowell is making his grand comeback as a judge on NBC's America's Got Talent—and he admits he is having more fun than ever.
"Sometimes when I watch those American Idol clips, I do actually think I was just miserable!" Cowell says over tea in the tranquil backyard of his luxurious Beverly Hills estate. "I felt I was almost becoming a parody of myself, and it was embarrassing. Now I find the bad acts just funny. I'm still the same person, but you'll see me liking a lot more people."
And NBC likes the prospect of having Cowell in front of the camera as America's Got Talent enters its second decade. When Howard Stern announced he would be leaving the dais following Season 10, executives jumped at the chance to finally feature Cowell on the variety show where he had behind-the-scenes input but was prohibited from making on-air appearances due to his preexisting contracts with Fox. "AGT is the show he always wanted to be on," says Paul Telegdy, NBC's president of alternative and late-night programming. "He loves variety, animals and the absurd. He's a 21st-century entertainment impresario and a bit of a P.T. Barnum."
Back in the Pasadena Civic Auditorium, the ringleader has settled into his seat and the audition circus begins. The first act, a singer from Brooklyn, walks to center stage wearing all white and holding a white guitar. She strums acoustic melodies while video images are projected onto the blank canvas of her instrument. Her performance ends with cheers from the masses, but the feeling in the room quickly shifts once Cowell opens his mouth. "Sometimes when I get a massage, they play music like that," he says. "It was really boring." A chorus of boos rains down from the rafters. With a massive grin on his face, Cowell soaks in the familiar sound from the audience he's spent years torturing.
"They love doing it, don't they?" he says of the boos a few weeks later. "If someone's bad, the American crowds are on their feet booing, and it makes me laugh. They always think I'm the mean one, and trust me, out of you lot [watching the show], I'm the nice one here."
Cowell may have a long-standing reputation of being the "Mr. Nasty" judge, but his tablemates admit they didn't know what to expect from their new coworker. "You hear all these different things through the grapevine like how Simon is so mean to the contestants and to all the other judges, but that's really not the case," Klum says. "I was very happily surprised."
"The biggest surprise is we are laughing more than we have ever laughed before," Mandel says. "Simon has a very dry sense of humor and sees the irony in silliness—and we get a lot of silliness on the show. He's tough and hysterical, but he gets us in trouble a little bit." Case in point: During one round of auditions, Cowell distributed a chewy candy to the others and told them to pop it in their mouths when the act was finished. "You couldn't understand a word we were saying and we went into a fit of laughter," Mel B. says. "We definitely get into naughtiness both on and off camera."
Cowell's chemistry with all three judges is undeniable, but he has a particularly infectious connection with Klum, who occupies the seat directly to his right. The bickering and bantering between the two echo Cowell's interactions with Paula Abdul during the early days of American Idol. "Sometimes he will be talking when I'm talking and I have to nudge him under the desk. I don't take any s–t from him," Klum says. "I'm just really hoping he lets me do a makeover on him. He needs it, and a lot of people would appreciate that. He has to get out of the bell-bottoms."
What Cowell may lack in fashion sense, he makes up for in his ability to find superstars. During his TV tenure in America and the U.K., Cowell has produced some of the most successful music acts in history, most notably boy band One Direction. The winners of America's Got Talent have ranged from magicians and ventriloquists to a dance troupe and even a group of jump-roping dogs, but Cowell believes the show is a viable platform to find the next big vocalist. "I was very disappointed with the music in the past," Cowell admits. "But across the first few episodes, we have—thank God—attracted some good singers. You only need one per year, but we want and need singers, and that is the main difference I'm going to make on the show."
RELATED: Simon Cowell: I'm Replacing Howard Stern on America's Got Talent
As the auditions continue in Pasadena, a 14-year-old vocalist brings the house down with her cover of the Rolling Stones classic "Wild Horses," eliciting excitement and enthusiasm from Cowell. "When you've got it, you've got it," he says after she receives a standing ovation. "I have a feeling about you, and we may have discovered a star in this moment."
This day of auditions concludes with performances by an Arkansas gospel choir and a group of teenagers practicing "sport karate." Other notable acts vying for the $1 million grand prize that piqued the judges' interests include a 6-year-old comedian, a young opera singer and a dance crew choreographed by dozens of flying drones. "We want to see something we've never seen before," Mandel says. "There are no rules, and that's why this show can go on forever."
While America's Got Talent shows no sign of slowing down, Cowell the judge is currently only signed on for this season (his busy schedule also includes spots on the Britain's Got Talent and U.K. X Factor panels). But as long as the acts are strong and the chemistry on camera continues, Cowell is never saying never to making AGT a full-time gig. "I wasn't sure what coming over here and doing this show would be like, and the first couple of days I asked myself, 'Is this a good idea?'" Cowell says. "Then, after the third or fourth day, this was a great idea. It's been so much fun."
America's Got Talent, Season Premiere, Tuesday, May 31, 8/7c, NBC.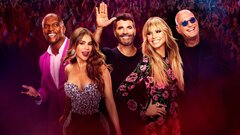 Powered by