'Liv and Maddie': Erik Estrada Disapproves of 'Dump Truck' (VIDEO)
It's tough enough for a teenager to get her dad to approve of her boyfriend. But imagine how Andie Bustamante feels: Her boyfriend's nickname is "Dump Truck," and her father was a CHP motorcycle officer in a former life.
RELATED: First Look: Erik Estrada Guest Stars on Disney Channel's Liv and Maddie
Erik Estrada of CHiPs plays Mr. Bustamante in this exclusive clip from the May 22 episode of Disney Chanel's Liv and Maddie, where Andie (Victoria Moroles) enlists her Liv and Maddie's mom, Karen (Kali Rocha) to vouch for Dump Truck (Shak Ghacha) who has known him for years and doesn't think he's a "crumbum," as Mr. Bustamante puts it.
RELATED: Are Liv and Maddie Real Twins? We Reveal How They Film the Disney Show
"Working on a family comedy is always totally fun," Estrada said in a statement. "Liv and Maddie was no exception—the cast and crew were great!! I felt right at home, playing Andie's dad, because I have teenage daughter in real life too."
Liv and Maddie, Sundays, 9/8c, Disney Channel.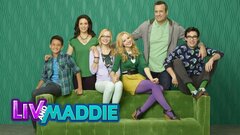 Powered by