CBS Cancels 'CSI: Cyber' After Two Seasons
Is this the end of the CSI era at CBS?
It seems like it is, at least for now, as the last active series in the 16-year-old franchise, CSI:Cyber, was just cancelled by the Eye net after two seasons, according to Variety.
RELATED: CBS Renews Life In Pieces For a Second Season
Despite the presence of Oscar winner Patricia Arquette and, in the second season, CSI and Cheers star Ted Danson, the series only got about 8 million viewers in the Live+7 ratings (day of air plus seven days of DVR viewing). The show was in enough doubt that it wasn't among the 11 veteran shows that CBS picked up in March, and its prospects of a pickup were remote.
RELATED: CBS Renews Scorpion, Elementary and Nine Other Shows
It's hard to believe that there won't be a CSI series on the air this year, but perhaps it's time for this franchise to rest for a couple of years and come back strong with a new angle. Perhaps we'll see a CSI: VR down the road if virtual reality devices like the Oculus Rift become all the rage.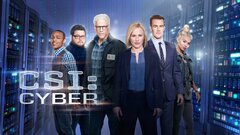 Powered by