'Bates Motel': Producers and Star Discuss Shocking Episode 'Forever'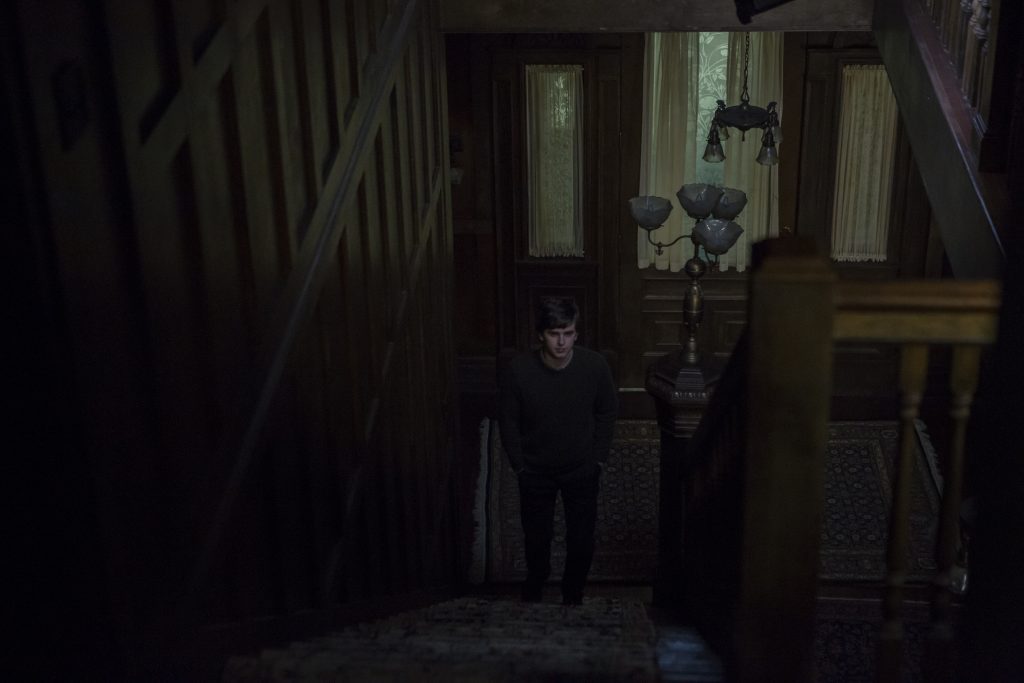 WARNING: Spoilers for Monday night's episode of Bates Motel are ahead!
Is Norma Bates (Vera Farmiga) really dead and waiting to be stuffed by her ever-loving Norman (Freddie Highmore)? That's what appeared to happen in "Forever," the shocking penultimate episode of Bates Motel's fourth season. The episode ended with Norman's attempt to murder his mother and commit suicide.
TV Insider talked to Highmore and executive producers Carlton Cuse and Kerry Ehrin about that jaw-dropping episode leading up to the season finale where all will be revealed.
That was a shocker. Why did you decide that this is the moment that Norman would choose to die with his mother? |
Ehrin: Norman realized that his mother was never going to be happy now that she had given up this guy Alex Romero (Nestor Carbonell) that she loved and that she would could never be released from him. The other side of it was that after having spent time at Pineview working on himself, Norman found physical proof in that trunk that either he or his mother had done something horrible that neither could live with. [Note: Norman found the clothes of Emma's mother, whom he had murdered at the beginning of the season.]
Cuse: I think the relationship with Romero catalyzed this decision. Norman felt like it's a me or him kind of moment in time.
Highmore: Norman has a deluded sense, or perhaps he's quite right in thinking, that Norma and Norman can only be happy when they're together as opposed to thinking he's taking Norma away from Romero or doing it in spite. I think he's doing it out of love for the both of them and feeling that this is taking control and saying, "This is how we're going to be happiest. This is how we need to be in order to go forward together."
Ehrin: They can't be separated and yet they can't find happiness in the world as it exists around them, especially now that his mother has been broken in half.
RELATED: Bates Motel: Norman and Norma's 'Weird' Relationship Gets Weirder (VIDEO)
Which Norman had predicted for his mother and then made come true.
Cuse: Honestly, this was kind of part of our long-term five-year architecture for the show. For a long time Kerry and I have been talking about this being the right moment in time to bring about Norma's demise.
Really? I thought a plausible explanation would be that Norman's having a hallucination that will drive his actions from then on.
Cuse: Coming out of [episode] nine, we want the audience to be desperate to watch episode ten. We sort out what's happened and what have they seen. There's a real subjectivity to the point of view in the show. Is this a reliable narration? Is Norma really dead? We wanted the audience to be very caught up in asking these questions coming out of this episode.
If she's really dead, would you keep Farmiga as the Mother we see Norman morph into to deal with life without her? Is that a possibility?Cuse: Absolutely. Meaning ten is still to come.
Wouldn't you say that the most people watch the show for that, let's say, unique relationship?
Ehrin: The thing about the show is it's so based on that relationship but it's also based on Norman's obsession with that relationship and that will always drive the show no matter what. That's at the heart of what the show is, this weird love story between Norman and his mom.
If there's no mom, there's just Mother, Norman's creation. Wouldn't that be tough to pull off?
Ehrin: I have a good answer, but I can't really answer it. After.
Will we definitely see Vera Farmiga next season?
Cuse: One hundred percent. She's not leaving the show.
What are the chances that Alex survives season four?
Cuse: That's not a question we can answer.
Highmore: Norman thinks he's had it coming for a while.
RELATED: Bates Motel: Nestor Carbonell on the Wedding of Romero and Norma Bates (VIDEO)
Whatever really happened, is this a way to keep Dylan (Max Theriot) in town?
Cuse: Dylan will serve an important role next season. We're changing up the dynamics again for Season 5 ,which is again part of the overall picture, particularly as we move toward the place where our show will intersect with some of the events of the movie Psycho. Even though they don't exist in the original, Dylan and Emma (Olivia Cooke) will around and involved.
Ehrin: I was just going to say dysfunctional families never die.
Is Dylan the normal guy to trust because everybody else is so unreliable as a narrator?
Cuse: It was always the plan that Dylan would be a window of normalcy into this dysfunctional relationship and dysfunctional pulp world that they inhabit.
Whether Norma lives or dies, won't there be suspicion from Romero, Dylan, even Dr. Edwards that Norman did this ?
Ehrin: I have a good answer again but I can't answer.
Highmore: The finale begins in the aftermath of nine and it continues immediately… All these questions will be resolved this season.
Have we seen the last of Norman's therapy with Dr. Edward (Damon Gupton)? Those scenes were fabulous. Even if Norman was gaming the shrink.
Cuse: There's more stuff going on with Dr. Edward. Damon's not a regular, but we have plans for him.
Highmore: You might not know this, but he's a professional conductor on the side and he's amazing. He would look through his sheet music and his lines simultaneously.
TV Insider: What else can you tease about the season finale?
Cuse: Episode ten is a point in our narrative that we've been heading towards for four years. The events really set up the version of Norman that we will see in season 5. The last thing we want to do is be imitative of the movie but we want to have fun with the audience's knowledge of that movie and the expectations.
TV Insider: You only have one more season left . Has every episode been mapped out? Or even written?
Ehrins: There are some tent poles. They've not been mapped out beat by beat, but we definitely have quite a course that we're going to do next season. It's going to be fun.
Cuse: These two episodes are really game changing. Kerry and I feel like we'll put Bates Motel up against anything on television this season on a quality level and the performances, as well. Freddie and Vera are both doing work that's astonishingly good and we want to get people to see them. It's hard in this crowded environment to keep up with everything but we feel like Bates is worthwhile and as good as anything. Freddie and Vera are both doing work that's astonishingly good and we want to get people to see them.
Bates Motel, Season Finale, Monday, May 16, 9/8c, A&E.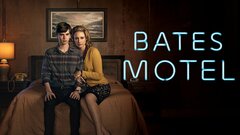 Powered by