'Bates Motel': Norman and Norma's 'Weird' Relationship Gets Weirder (VIDEO)
Only two more episodes of Bates Motel before the penultimate season comes to its end, Norman/Norma fans. We don't want to ruin any surprises in Monday's episode, but let's just say that "this weird love story between Norman (Freddie Highmore) and his mom (Vera Farmiga)," as executive producer Kerry Ehrin puts it, gets even weirder. You won't be able to take your eyes off Highmore in the episode, aptly titled Forever.
RELATED: Bates Motel: Star Freddie Highmore on Writing Monday's Pivotal Episode
Life's not going too well either for lovelorn Sheriff Alex Romero (Nestor Carbonell). And there could be a body.
Watch the trailer below, and look for an interview with Ehrin about the episode on Monday night.
Bates Motel, Monays, 9/8c, A&E.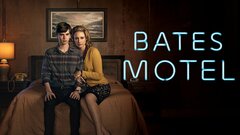 Powered by