'Criminal Minds' Renewed for a 12th Season
Fans of the long-running CBS procedural Criminal Minds can breathe a sigh of relief; the Eye net announced today that they're renewing the show for a 12th season. A full 22-episode season has been ordered, and we assume all current cast members are returning, but nothing has been announced yet.
RELATED: Criminal Minds Loses One of its Stars
It was a bit of a last-minute decision by CBS, given that their upfront will be on May 18, and that the show was one of the only veteran shows not on the list of 11 renewals CBS announced in March. All the usual factors for a show this far along likely account for the delay: licensing negotiations between CBS and ABC Studios, who produces the show in conjunction with CBS' production arm, actor contracts, etc.
RELATED: Criminal Minds: Beyond Borders: Gary Sinise on Playing an FBI Agent Who's Not Out for Revenge
This may make the chances for the show's new spinoff, Criminal Minds: Beyond Borders, to get a renewal. But like the bubble show cases with Supergirl, Limitless, CSI: Cyber and Code Black, we likely will have to wait until around May 18 to find out its fate.
Criminal Minds, Wednesdays, 9/8c, CBS.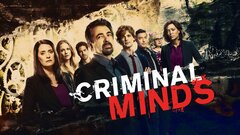 Powered by