'Bones' Michaela Conlin on Angela and Hodgins' Big Fight
Spoiler alert! This post contains spoilers for Bones' "The Last Shot at a Second Chance."
Bones' Angela (Michaela Conlin) and Hodgins (TJ Thyne) nearly broke up in this week's episode…but Angela was able to successfully get through to her husband, who has been a bubble of grief/misery since his paralysis diagnosis.
Things became extra complicated for the long-time couple in "The Last Shot at a Second Chance" as Angela had a romantic dream about her artistic mentor, Sebastian (Gil Darnell)—and Hodgins overheard his wife mention another man's name in her sleep.
Hodgins, aware of how miserable he was (and that he was dragging his wife down, too), offered her an out: he handed over his assets and said their marriage was done. Angela was having none of it, and insisted she loved him and he was taking the coward's way out. (And for Conlin and Thyne, the heartbreaking exchange was among their best performances of the series.)
Ultimately, she made her point—though they left work separately, Hodgins returned home to comfort a distraught Angela.
We spoke with Conlin about the episode's emotional roller coaster.
Angela and Hodgins haven't been in the best place since his accident. Going into this episode, how looped in were you to what was going to go down? And did they warn you before you read the Sebastian/Angela scene that it was going to be a fantasy vs. reality?
I was obviously relieved it was a fantasy. It was strange to do a scene [like that]. Angela used to do that stuff quite a lot, but she hasn't in a few years. While I felt like it was real to who she is, obviously she's married and she has a child. It was strange as an actor to feel like I was being unfaithful. I had to switch my mind back into that, because I haven't had to do that in a while.
I remember getting the script and being very, very relieved. [Bones co-showrunner] Michael Peterson told me early that, oh, there's a scene that might entail being physical with Sebastian, and I was like, "What?! How is that—?" And he was like, "It's a fantasy." So I was like, "Oh, okay."
I really like that, because I have a lot of married friends, and I think it's a very real thing to think about when you're married. I feel like I really like that we're seeing parts of the marriage several years in, and what happens when a tragedy strikes them. I like that the producers are allowing [the characters] to have unpleasant thoughts towards each others this season. It feels real to me. It would be really weird if Hodgins came back and was happily zipping around in his chair; I just think it would be so strange. I'm glad they allowed us to do that.
RELATED: Bones: Angela and Cam Have a Heart-to-Heart (VIDEO)
There's a few beats into Angela's fantasy where it seems like she actually is cheating on Hodgins before the reveal is made that it's just a dream. How concerned were you about the fan reaction in those moments before people realized what was going on?
TJ is the one who is really been taking the brunt of that right now because of the way Hodgins has been treating Angela. He's been really great about [it]—as an actor, I think he understands you have to let people have those feelings so they can possibly pay off down the line.
I haven't dealt with that a lot of that on social media, because Angela's the recipient of the behavior. But I think the people who watch the show and know the characters, I don't consider any of the [feedback] negative, really. People are just surprised. And glad to see them do different things.
I don't think you can worry about that as an actor. I don't think you can concern yourself with how someone will react to that or it gets you into trouble. I think you have to make sure you're doing it honestly. The producers do protect these characters, in a way. Through the years on the show, I feel like they've been very fair to these characters. I don't think it's good as an actor to go into something worrying about how someone will feel about it when it airs.
RELATED: Michaela Conlin on the delights of playing the new Angela/Hodgins dynamic
What was the mood like when you and TJ were actually filming the attempted split?
That was a really rough scene, and we didn't have a lot of time with that, because the script came out and it was shot very quickly in the beginning of the episode. I think we may have gotten it and then shot it the next day. I remember it being a very quick turnaround, which is television! That being said, it's such a beautiful scene that when we got it, I was so excited to do it with [TJ].
It was very serious on set; the directors come in, and they know we know these characters really well, and he let us try things. It was a night that I will remember on the show, for sure.
Now that the duo seem to finally be heading in the right direction, where do they go from there?
It's different. It's definitely a little different for them.
Does Angela feel like she's made a breakthrough?
Yeah, I do. Surprisingly, and this is another interesting thing about the show: for being such a forthright character as Angela is, and always telling people how she feels about something, or she's upset about something–it's not like she has reservations about doing that–but it's interesting to me she hasn't with him. I really liked that, actually. I thought that was such an interesting side to her.
At first, I was like, why wouldn't she be speaking up, why is she taking this? But I think she understands on some level what has to happen for this to be okay. That was touched on last week in the scene with Angela and Brennan, when she was like, "This is what I signed up for. This is what it is." But I do think [this] episode, she has to get that out. She has to tell him, "I'm going to love you." I was glad when we shot it; it was good to get it out and say it. I think Angela definitely needs that to move forward.
Bones, Thursdays, 8/7c, Fox.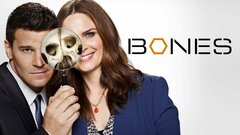 Bones
where to stream
Powered by