Adam Levine on 'The Voice's Longevity: 'I Wasn't Sure It Would Get Past One Season'
"Can I sit down before everyone starts busting my balls?" It's shortly after two in the afternoon, and Adam Levine, The Voice coach and Maroon 5 frontman, has just arrived at an L.A. recording studio, where his bandmates seem determined to give him a good-natured hard time. Which, as the Grammy-winning rocker acknowledges, makes giving this interview a challenge. "Sorry," he says. "What were you asking?"
Quiet downtime isn't something Levine has much of these days. Besides working on his band's next album and finishing up his 10th straight season on NBC's singing competition, which airs its finale on May 24, he'll welcome his first child, with model wife Behati Prinsloo, later this year. Still, we managed to pin Levine down long enough to find out who he thinks could keep him from scoring his fourth Voice victory, how he really feels about incoming coaches Miley Cyrus and Alicia Keys and his own on-screen future. Naturally, along the way, Levine couldn't resist busting the chops of someone else: close pal and fellow coach Blake Shelton.
RELATED: First Look: Gwen Stefani of The Voice Dons a Red Nose For a Good Cause
You continue to fight hard for the artists on your team every week. What keeps you invested after 10 seasons?
In the beginning, honestly, there was some ego attached to [coaching], because I wanted to win. But once you become better at it, you realize it's not as much about winning as it is about doing right by everyone you're representing. I still love to win, but it's much more fun to give people lasting advice that's going to propel them to where they need to be.
There's been a lot of buzz this season about Christina Aguilera's team. Do you think you can beat her?
I don't think I can! I don't think anybody can this season. I say that not because I'm discouraged or not confident. But listen, I thought I had the winning team last season, and I did. [Winner Jordan Smith was on Team Adam.] So I'm just being truthful about the situation. I think she's got the best team.
In the finals, the Top 4 will perform original songs, something the show has done only once before, in Season 8. Are you happy that twist is back?
I have mixed feelings about it. It can be really great, but unfortunately, it puts pressure on the coaches. Finding a great original song for an artist sometimes takes months. It needs to be the right marriage. But I like that [producers are] trying to do something a little more unique.
Is the show still fun for you?
Hell, yeah! I'm having the time of my life. I love this show.
When you first signed on, did you ever think The Voice would last this long?
I wasn't sure it was going to get past one season! I didn't have any idea I was making a really smart choice. (Laughs) Signing on was something that I considered for a long time and wasn't totally sure about, not even after I made the choice. But I was like, "It'll be something new and different for me. Maybe it won't work, but f— it, let's just go for it." And then, boom! All this happened.
Besides the show and your music, you have a clothing line at Kmart and have put out your own fragrance. At this point, how do you decide which projects to do?
A lot of people want you to endorse this or that and give you money, and I love money. Money's great. But it needs to feel right. And if I can't have say, I can't do it. I would be embarrassed if I didn't have any creative control over something, so one prerequisite is that I always have input. Basically, it's the opposite of Blake Shelton. Blake's like (adopts a Southern drawl), "Yeah, I'll do Pizza Hut, no problem. Oh, you wanna give me a check for your insurance company? All right!" Blake will do anything. I think he does birthday parties at this point.
What can you tell us about the new music Maroon 5 is working on?
We're in the messing-around stages. Beyond that, I can't reveal any information.
RELATED: Why The Voice Still Rocks, and Which Coach Might Win This Season
You had a recurring role on American Horror Story in Season 2 and costarred in the 2013 film Begin Again opposite Keira Knightley. Do you hope to do more acting?
Absolutely. I'm really pumped about it. I hope people will hire me to be in their movies. That'd be cool. [Laughs] But I have to make sure that I choose the right roles. And I gotta get good at it, you know?
You've gotten pretty decent reviews so far, unlike many musicians who try to cross over.
I would say the fact that I'm a musician and people expected me to suck probably helped me. (Laughs) Their expectations were so low that I was able to survive the first round of reviews. But I will be good someday. Kind of the same way I feel about golf.
Like Christina, Pharrell Williams is sitting out next season. How are we going to survive without his unwavering optimism every week?
I know! I'm going to miss it a lot. I love that guy so much. I've known him awhile, but I became really close with him doing the show. He's seriously the coolest guy on Earth and so unbelievably talented. And he really does care that much about people.
The show will be getting two new coaches in Season 11: Miley Cyrus and Alicia Keys. Are you and Blake ready?
Hell, yeah! It's time for some double girl power. I'm excited. I ran into Miley the other day, and we had a great conversation. I told her she's going to be surprised by how inspiring this whole process is. She's super pumped.
How long will you do The Voice?
I don't know. This [career] is not, like, carefully planned. I don't really know what's going on, ever. (Laughs) But it's a lot of fun to live my life. I'm a very lucky man.
The Voice, Mondays and Tuesdays, 8/7c, NBC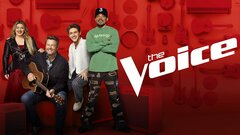 Powered by