'Gotham's Top Cops Face Off!
Fool him one, shame on Barnes (Michael Chiklis). Fool him twice … Well, why not?
Ever since he took over the GCPD, Captain Nathaniel Barnes has either been bonding with Gordon (Ben McKenzie) or getting up in his grill. Granted, there have been plenty of good reasons for him to rage at Jim. He did have a hand in Galavan's murder and yeah, he did fake his death and break out of jail after being framed for Carl Pinkney's death. But this time, Barnes may be the one out of line.
RELATED: Gotham: First Look at Azrael In All His Crazy Glory
In the last original episode two weeks ago, Jim—who is really working the scruff and dark-garb look—recruited his squad to bust reptilian-armed Pinewood lab-rat Karen Jennings out of police custody in hopes of her identifying the person who ordered the Wayne murders.
Unfortunately, a fatal showdown with Mr. Freeze stopped Karen cold in her tracks (pun!) and in this exclusive clip from tonight's episode, Barnes is ready to rip Jim a new one and send him packing over his role in the entire mess. Thankfully, Bullock (Donal Logue) and Lil' Bruce Wayne (David Mazouz) are more than ready to step in to defuse the situation with the truth about what really went down.
RELATED: Gotham Renewed for Season 3
And also, pay close attention to the dynamics in this scene. We don't want to spoil anything but we're hearing that there may be a power shift within the GCPD by the end of the episode. In fact, executive producer John Stephens tells us that someone will be rising in the ranks "and does a great job of it, surprisingly!"
Gotham, Mondays, 8/7c, Fox.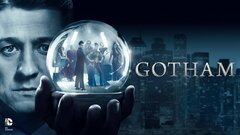 Gotham
where to stream
Powered by