Who is 'Gotham's Patient 44?
If New York is the city that never sleeps, Gotham is probably the city that should sleep with one eye open. The death toll this year has been epic and honestly, we're expecting to see a lot more folks heading to the morgue before the season is over.
Thanks to Hugo Strange (BD Wong) and his hellacious Indian Hill experiments below Arkham Asylum, however, it seems the ever-dwindling population of Jim Gordon's beloved hood is about to tick up a tad. In these clips promoting Monday night's episode, a certain previously deceased somebody is rising from the dead and they do not seem too happy about it.
"I would say that Patient 44 is going to answer a lot of questions about what Hugo Strange has been up to," previews executive producer John Stephens, cryptically adding that the hour will "mark the entrance of both an old and a new character into our show." There has been much talk of returning cast members and of course, there are those monsters who post spoiler pics online, but that isn't stopping us from having a little fun with this one. So who do you think is Patient 44? Could it be Fish? Mr. Freeze's late wife? Galavan? Kristen Kringle? Butch's missing hand?
Check out the video and share your theory!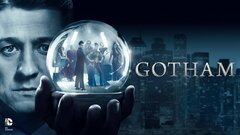 Gotham
where to stream
Powered by