'DC's Legends of Tomorrow' Are Ready for Their Close-Up (VIDEO)
What becomes a Legend most? Apparently, it's not fame!
The Arrowverse's most entertaining mashup is back and even in a post-Crisis world, the Legends of Tomorrow posse is still killing it. In tonight's Season 5 premiere, we learn that the gang has become a global phenomenon, thanks to their high-profile — and highly publicized — theme-park showdown against the demon Neron in last May's finale.
That sitch, however, also led to Congress shutting down the Time Bureau. Also, Ava (Jes Macallan) struck a deal with the Senate to provide "complete transparency" in exchange for permission to continue monitoring the timeline. If only she knew what that entailed.
See Also
Routh has played Ray Palmer/The Atom in the Arrowverse since 'Arrow' Season 3.
Turns out, the Feds' conditions include sending a documentary film crew to shoot aboard the Waverider, giving the world complete access to the team's adventures and interactions and fans an insta-classic hour comprised of their footage (think of it as The Real World: Arrowverse, only with less hot tubs and more back-from-the-dead historical figures).
So, after a quick welcome-back moment for Crisis survivors Mick (Dominic Purcell), Ray (Brandon Routh) and a still-devastated Sara (Caity Lotz), our heroes are off to save the day again, expand their brand as media darlings and, because this is Legends, make complete fools of themselves for the cameras. Case in point: The above exclusive sneak peek clip.
DC's Legends of Tomorrow, Tuesdays, 9/8c, The CW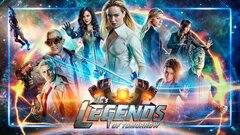 Powered by