Ken Burns On Jackie Robinson, Baseball's Most Important Player
Ken Burns' seminal Baseball documentary premiered in 1994, and a significant part of the series' original 18-plus hours was devoted to Jackie Robinson, who on April 15, 1947, became the first African American to play in the major leagues. Robinson's widow Rachel participated in the documentary, and years later contacted Burns about doing a standalone film about her husband. Now at age 93, Rachel sees her idea come to fruition as Burns, his daughter Sarah Burns and her husband David McMahon present the two-part, four-hour Jackie Robinson for PBS.
"The most important person in the history of baseball is Jackie Robinson," Burns says. "He may not be the best baseball player, but he is, without a doubt, the most important baseball player." Major League Baseball honors Robinson every April 15, as every player, manager, coach and umpire in games that day wears his No. 42, a retired number for all MLB teams.
RELATED: What's Worth Watching: Ken Burns Tackles Cancer in a New Documentary
Robinson not only broke the game's color barrier, he's credited with ushering in baseball's modern era. "Jackie comes along bringing the virtues of small ball—of walks, of steals, of bunts, of great baserunning—and because Jackie had power, he added that dimension as well. And the steal of home, which is still the most thrilling thing in all of sports, and he did it so magnificently," Burns says. "He does represent not just this profound social change in the United States—you could argue the first real progress in civil rights since the Civil War — but he represents a fundamental sea change in how baseball's going to be played. And then he's going to open the door to a lot of African Americans who are going to add to that dynamic."
RELATED: PBS to Go Inside Broadway Smash Hamilton With Hamilton's America
Baseball is only half the Jackie Robinson story, though. Part 2 examines Robinson's life after 1947, including his political activism, his leadership role in the civil rights movement, and the challenges of being a husband and father in the midst of his public persona. "Part 2 is not without its joy and its great baseball and other interesting things, but this is one of the most important people in the history of civil rights," Burns says. "He was the symbol of the civil rights movement. The rest of it is stuff that you'll go, 'Oh, my God. I had no idea.'"
Jackie Robinson, Monday, April 11 and Tuesday, April 12, 9/8c, PBS (check local listings).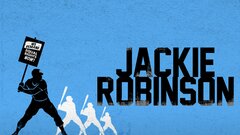 Powered by