PBS to Go Inside Broadway Smash 'Hamilton' With 'Hamilton's America'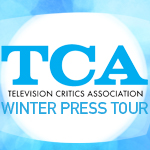 PBS is going behind the scenes of the Broadway show Hamilton with the new feature film documentary, Hamilton's America.
RELATED: PBS Announces Election Coverage in Docuseries, 16 for 16
Great Performances will host Hamilton's America in fall 2016, and combine interviews with the cast and experts. Per PBS, the film will show:
[Hamilton star/creator Lin-Manuel] Miranda as he composes songs in Aaron Burr's Manhattan bedroom. They'll take a trip to Virginia with Chris Jackson—the African-American actor who portrays George Washington— and watch him place a wreath on Washington's grave, as he discusses the difficulty of grappling with our founders' legacy of slavery. Back in New York, Miranda and Leslie Odom, Jr.—who plays Aaron Burr—visit the Museum of American Finance to get their hands on some 19th-century dueling pistols and stage a quick re-enactment.
For those who have yet to score tickets, "there will be some of the actual musical" in the special, PBS boss Paula Kerger said during the network's Television Critics Association executive session. She also praised Miranda's impact on culture: "The way he truly makes history sing is tremendously important...I'm really grateful and proud we'll be able to partner on this project."
Since the film is just starting production, Kerger said they'd be "working closely with Lin-Manuel on building the show." She noted the first piece that he did from Hamilton was originally on a PBS concert: "I remember the night really well, because he sang this piece, and he described this musical that he was doing that was based on the life of Hamilton. And I think the audience laughed, because they thought he was joking."
"On behalf of the entire Hamilton cast and creative team, many of whom are In The Heights alumni, we are overjoyed to be returning to PBS in partnership with RadicalMedia with this project," said Miranda in a statement. "We invited filmmaker Alex Horwitz into 'the room where it happened' a few years ago, and he's captured parts of this journey no one has seen. We can't wait to share it, thanks to PBS."
RELATED: More News Scoop From the Television Critics Association