'Lindsey Vonn: The Final Season' Delivers the Iconic Skier's Last Career Run
Universally recognized as the greatest female skier ever, Lindsey Vonn went on a remarkable journey that was defined by unexpected twists and turns and dramatic peaks and valleys in its final chapter.
HBO's feature-length documentary Lindsey Vonn: The Final Season debuts Tuesday, November 26 on HBO.
The documentary traces Vonn's exhilarating story from her childhood in Minnesota, all the way to the World Championships in Are, Sweden this past February, for what proved to be the epilogue of her fabled career, as she earned bronze in her final event.
Cameras and microphones were embedded with Vonn during her final stops on the 2018-19 World Cup circuit.
Lindsey Vonn: The Final Season, Premiere, Tuesday, November 26, 10/9c, HBO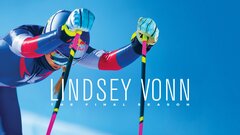 Powered by