'Game of Silence' Boss on the Show's 'Universal Themes' (VIDEO)
NBC found success with its procedurals, but its newest drama, Game of Silence, aims to be a bit darker than what's currently on network television. "I think the show is cable-like, and I think that's a good thing," executive producer David Hudgins says.
Game of Silence (an adaptation of the Turkish series Suskunlar) follows a fractured group of friends who are bonded by (and still recovering from) what they went through in a juvenile detention center decades earlier. The mystery of what happened to the men as kids—which ties into a current conspiracy—will unravel during the run of the first season.
The series gets a special launch behind The Voice this week before moving to its permanent Thursday home. The story kicks off when Boots (Derek Phillips) brutally attacks a man he recognizes from his stint in juvenile detention. His pals Gil (Michael Raymond-James) and Shawn (Larenz Tate) contact their long-lost friend, and fellow detainee, Jackson (David Lyons)—who is now a successful attorney with a new fiancée—to see what help he can offer. Info they don't share? Gil is now involved with Jackson's first love, Jessie (Bre Blair).
We spoke with Hudgins about adapting the series, the show's central brotherhood, and balancing Game of Silence's dark themes with lighter beats.
What made you want to be a part of this adaptation?
I sat down with Carol Mendelson, the producer who did CSI for all those years. And Carol and her partner Julie had this show; they had the rights to it. We had lunch, and they were like, "You need to watch this and see what you think." They sent me the pilot, which was 90-minutes long, and subtitled in Turkish, and I said, "Okay, here we go." And I just fell in love with it. It's such a great story… It's compelling and it had this layers of nostalgia with these best friends back in the day, and I really responded to it. I felt like it could translate well. I was hooked the moment I finished the pilot. I said, "Absolutely I want to take a crack at this." I ended up watching the second episode of the Turkish series, and then another one later in the run. But from the moment I saw the pilot, I thought it was so good and I was interested in trying to adapt it.
How similar is the story you're telling to the original Turkish series?
We kept the underlying concept of best friends who hadn't seen each other in a long time, and something from their past comes back to haunt them. We're pretty faithful to that in our version. But I also felt we could open it up, and we could make it even more layered and complex; it could be really interesting to lay in this larger present-day conspiracy of who is controlling the bad guys, what are they up to, what's their real agenda, to really give our heroes something to be up against. I created some new characters, both villains and heroes, just to make it more complex and more layered. And it's America and I set it in Texas.
RELATED: NBC Orders Dick Wolf's Law & Order: True Crime as the Next TV Series to Tackle a Famous SoCal Murder
But I think the universal themes about it—the loyalty and the friendship, people from your past coming back to your life—those are relatable whether you're here or somewhere else. Those underlying themes and relationships are there; we opened it up and we broadened it out.
Is the central mystery of the show left open-ended at the end of Season 1?
Look, the finale has some incredibly shocking twists and some incredibly shocking reveals that were, I feel, earned and will pay off the story. And if you watch the show, you're going to get the sense of satisfaction. Some of the stories are going to come to an end, but we wanted to make sure we had cliffhangers and stories that we're going to continue in the future. I'll tell you, Act 5 of the finale just sort of reorients the show in such a shocking way that I really think and hope people are going to watch it and go, "Oh my God, I did not see that coming. So this is where this is going." So by the end, you will get a sense of satisfaction and resolution for the stories we've been telling in Season 1, but with the twists that come at the end, it'll rocket into a whole other level in Season 2.
There's a brotherhood at the center of this—albeit one partially fractured by their shared traumatic history during their time in a juvenile detention center. How does play into the stories you're able to tell in Season 1?
What got me interested in the show, and what I talked about a lot when I was pitching it [was] on Facebook, for example, if somebody you went to high school with sends you a friend reques t… If you knew this person back in the day, and you kind of remember the person, and you're not sure you like the person, but you accept the friend request. Somebody coming back into your life from the past can be a good thing, but it can also be problematic.
The way we set up the relationships between these guys is they were best friends when they were 10,12, 13 years old, and then this terrible thing happened to them, and they all dealt with it in different ways. Trauma is a very interesting thing. We spent a lot of time doing research on and talking to experts in the field about how people deal with trauma. And everybody's different. That became an interesting thread to explore, because ultimately this show is about survival. It's about how these people cope with what happened to them, and everybody's different. Some people, for example, if you're like Jackson, his sense of justice is to do things the right way; to use the law, use the system. Where Gil is more the opposite—he's acting from the heart … You add all those elements together, those very different people, and where they are in their present lives, and then you throw into the mix Jackson and Jessie were a first love situation, and now she's back in his life, and he has a fiancée, and it just gets incredibly messy.
NBC has skewed very procedural-based in recent years. What kind of feedback did you get from the network about being so serialized?
The show is very bingeable. When we tested it, way back in the pilot stage, you bring people in and they watch the first episode, and the first thing they all said was "Can we watch the next one?" I was like, "That's a good sign; people want to see what's going to happen next."
The answer to your question about NBC and also Sony in there as well, is they never blew that trumpet. They were supportive of this the entire way. [NBC President] Jen Salke, from the moment I pitched it to her in the room at NBC, all the way through editing the finale, was like, "Tell the story you want to tell. Do what you want to do." I think the show is cable-like, and I think that's a good thing. If there's a reaction of, "Oh, I don't think this feels like network," I think that's a good thing. And they were very supportive the entire way. I give them all the credit in the world for that. They just said, "Tell the story you want to tell."
RELATED: Jerrod Carmichael: NBC 'Took a chance and a risk' with Our Bill Cosby-Themed Episode
That's not to say they didn't have comments or input. But they really did give us the freedom to tell the story we wanted to tell in a way that is very freeing for a group of writers in a room, and I really appreciate it.
What kind of discussions did the writers' room have about finding elements of lightness in the story? With a story based on the reaction to childhood abuse, it would seem easy to slide into the darkness all the time …
There's a couple things about that: I have four kids of my own. When I thought seriously about the inciting incident of the show, which is what happened to these boys in juvenile detention, the first thing I said to myself is, "How real is this?" It's amazing what goes on in juvenile prisons in this country. Which, by the way, we put more kids in prison in this country than any other country in the world. So, from the smell test of overall authenticity, it's like this definitely happens. And then I felt like this is something we're going to take very seriously and deal with in a very real way. That's why we spent a lot of time researching the effects of this kind of abuse on kids and the effects of it on their adult life.
In terms of balance, we did keep a close eye on that. You want to earn their behavior in the present day, but you also don't want to make it so dark and depressing that every time you go to the past, it's awful. That's why there are flashbacks to the past that are joyful and hopeful. You see the wedding, you see how Gil and Jessie met and fell in love. The balance is there.
In case anyone is on the fence about why to watch Game of Silence, what's your pitch for why people should tune in?
You should tune in because I think you're going to fall in love with these characters, and a large part of that is because of the casting. You're going to fall in love with them, you're going to care about them, you're going to want to root for them, you're going to be entertained. I feel like this is a show where you're going to be standing up screaming, "Why? Why??" and then also moments and saying, "Yes! Do that! Go get the warden, he's terrible." I just feel like it's that kind of show.
Want more Game of Silence? Series stars Raymond-James, Lyons, and Blair spoke with TVInsider about their characters' complicated dynamics, their off-screen bond, and more.
Game of Silence, Tuesday, April 12, Series Premiere, 10/9c, NBC; Thursday, April 14, Timeslot Premiere, 10/9c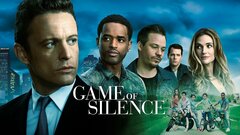 Powered by