My Obsessions: 'The View's Joy Behar Just Can't Stop Watching 'Law & Order'
Joy Behar returned to The View in an improved role last year after departing on less than ideal terms in 2013. Now that she's had some time to settle back into the panel, she's taken a moment to share her TV viewing habits.
RELATED: More TV Celebs Share Their TV Obsessions
The device I watch on
A gigantic television set, like every person over age 50.
The first thing I watch when I wake up
The news. I want to see if there still is a planet left.
The last thing I watch before I go to bed
Law & Order: SVU. That's why I have nightmares.
Who I watch with
My husband, Steve.
The funniest person on TV
Bill Maher, because he is the riskiest.
The show I miss most
Law & Order. I watch reruns continuously.
My guilty pleasure
Mob Wives
The show that makes me laugh
Curb Your Enthusiasm
What I binge
Masterpiece Mystery! I love mysteries more than any kind of show besides the news.
The show I'd like to guest star on
Veep. I love politics.
My dream costar
Idris Elba. Enough said!
My celebrity crush
The only crush I have right now is Bernie Sanders.
The View, weekdays, 11/10c, ABC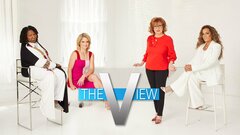 Powered by