Worth Watching: Premieres of 'Good Doctor,' '9-1-1' and More, 'Dancing' Elimination vs. 'Voice' Opener, 'Tonight' Goes Live
A selective critical checklist of notable Monday TV:
The Good Doctor (10/9c, ABC): Casanova he's not. But once Dr. Shaun (Freddie Highmore) declares that his date with sweet pathologist Carly (Fringe's Jasika Nicole) was a "disaster" in the medical drama's third-season premiere, his fellow surgical residents hang on every tidbit, trying to learn just went wrong. Romance is a common thread through the medical subplots in the opener, when a new bride contemplates a radical surgery and, in a real tearjerker, a long-married couple weighs their options when the husband, suffering from dementia, is diagnosed with cancer.
9-1-1 (9/8c, Fox): The streets are never safe in this extreme emergency melodrama, back for a third season. Athena (Angela Bassett) has an especially busy day, calling in the 118 after a teenager goes out of control while speeding on the freeway. And then an ordinary traffic stop reveals a kidnapping in progress. Which doesn't leave much time for Buck (Oliver Stark) to work through his recovery issues.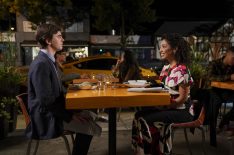 See Also
David Shore also reveals what to expect with Audrey Lim as the new surgical chief.
Dancing with the Stars (8/7, ABC) vs. The Voice (8/7c, NBC): Among things we can't unsee, much as we'd like to: Lamar Odom clomping around the ballroom floor like a clumsy Frankenstein monster, and Sean Spicer cavorting in a lime-green costume. Either would be an appropriate pick for the first elimination, which will be announced live as voters get to weigh in on the second week of dance. (Kudos, by the way, to Sailor Brinkley-Cook for stepping into injured mother Christie Brinkley's heels with only a few days to prepare for the first routine.) The judges were surprisingly tough on opening night, so we'll see who (if anyone) improves this week.
As usual in the fall, Dancing squares off against NBC's The Voice, which brings back Gwen Stefani as a coach, taking a red chair next to Kelly Clarkson, John Legend and Blake Shelton for the 17th season — the first without Adam Levine. Will his absence have an impact on the show's popularity? Probably not during the Blind Auditions phase, always the most enjoyable part of any Voice season.
See Also
Plus, finding where to watch rare shows.
The Tonight Show with Jimmy Fallon (11:35/10:35, NBC): While his competitors go live after major political events, Jimmy Fallon celebrates the first week of the new season with a week's worth of live shows, emphasizing musical stunts and games. First up: The Voice's busy Gwen Stefani, Tony winner Ben Platt (Dear Evan Hansen) to promote the new Netflix series The Politician, and music from Zac Brown Band.
Inside Monday TV: A&E's Live Rescue (9/8c) welcomes a new host, American Ninja Warrior's Matt Iseman (a licensed physician), for new episodes that expand to feature first responders from two new agencies, the Tallahassee (FL) Fire Department and the San Bernardino (CA) County Fire Department… HGTV's unexpectedly enjoyable A Very Brady Renovation (9/8c) moves on to the kitchen and family room on the ground floor, with middle "kids" Christopher Knight (Peter) and Eve Plumb (Jan) working with Steve and Leanne Ford of Restored by the Fords. Plumb shares her extensive collection of Brady Bunch memorabilia, including a memento from the late Ann B. Davis that she plans to use in Alice's bedroom, which is also on the agenda along with the artificial turf in the backyard. It's beginning to feel like home… Bull is preparing for fatherhood as the fourth season of CBS's Bull (10/9c) gets underway, but things aren't the same without Benny (Freddy Rodriguez) at TAC.